Disney's Enchanted and a new Menken/Schwartz score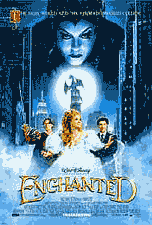 Enchanted the musical, romantic comedy, 2-D, CGI, live action spectacular movie with song lyrics by Stephen Schwartz and music by Alan Menken.Enchanted Blu-Ray

Enchanted soundtrack on Disney label [amazon.com]
The soundtrack comes with printed lyrics.
Enchanted Song List and Stories
Stephen Schwartz was recruited to write lyrics for Enchanted in 2005. Schwartz was delighted to work with Alan Menken again as the songwriting duo for a Disney movie. The songs are meant to evoke different eras of Disney films as well as Giselle's journey. They start out in the 1940s style of Disney movie with "True Love's Kiss," move into the Menken era, and end with a two more contemporary pieces.
"True Love's Kiss" - To write this opening duet between Amy Adams and James Marsden, Schwartz and Menken considered how early Disney movies Snow White, Cinderella, and Sleeping Beauty were musicalized. Alan Menken calls this a "Walt era" reference. Schwartz says, "I tried to channel the classic Walt Disney sensibility and then just push it a little bit further in terms of choices of words or certain lyrics."
"Happy Working Song" - Amy Adams as Giselle utilizes her animal-charming abilities to help straighten out a messy apartment: This is an obvious flirt with Snow White's "Whistle While You Work" with the seven dwarfs helping. (The busy mice visual reference is from Cinderella, only here it's rats.) Giselle sings to the assembled rats, pigeons, flies, and cockroaches: "Come, my little friends/As we all sing a happy little/Working song..."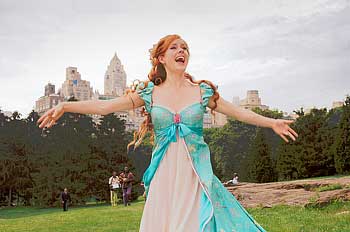 "That's How You Know" - Amy and company sing this cheery number in Central Park. It pays homage to "Under the Sea" and "Kiss the Girl" from The Little Mermaid, but still gives the flavor of New York--or at least of a play day in Central Park.
Some lyrics are hard to understand in a first listen.
...You've got to show her you need her
Don't treat her like a mind reader
Each day do something to lead her
To believe you love her...
"So Close," Singer/songwriter Jon McLaughlin performs the song offering an outer voice that mirrors Giselle's inner emotional journey. Musically, the song moves up to the Alan Menken era of Disney songwriting.
One of the great things about this song is how the movie matches the lyrics that begin "You're in my arms/And all the word is gone/The music playing on/for only two/so close together," and then by the end of the song, you know there is still a separation between Giselle and Robert. The lyrics end "...So close, and still/So far..."
"Ever Ever After" - Multi-platinum recording artist Carrie Underwood performs the final song, which captures the spirit of the movie. The first verse is:
Ever ever after (happily)
Storybook endings
Fairy tales coming true
Deep down inside
We want to believe they still do
In our secretest heart
It's our favorite part of the story
Let's just admit
We all want to make it to
Ever ever after.
Credits Music - Just a note to say that Stephen recommends not dashing out at the end of the movie, but staying to enjoy Alan's great music over the credits.
CUT SONG
Stephen Schwartz says he and Alan wrote a title song for Idina Menzel called 'Enchanted,' but... "by the time we got to that point in the film, because she was never an animated character, it didn't actually work stylistically for her to sing."
To order the CD or hear clips. Enchanted soundtrack on Disney label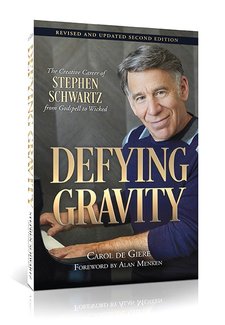 ABOUT ENCHANTED: For comments by Stephen Schwartz and Alan Menken about Enchanted's songs, see the Stephen Schwartz biography Defying Gravity
The Revised and Updated Second Edition features a Foreword by Alan Menken.
Notes from Carol de Giere about how Menken and Schwartz work: Composer Alan Menken and lyricist Stephen Schwartz experience a natural flow of understanding while they work together. They feel free to draft rough versions of songs and then work through the refinement process. It helps that Schwartz is a composer as well, and they make suggestions to each other as they go along.
The award-winning writing partners almost always begin with a song title, and maybe a couple of lyric lines from Schwartz. They discuss the nature of the song and music, and then Menken composes. Alan plays the music for Schwartz or sends him a CD and with the music in mind, Schwartz drafts the lyrics. They work back and forth in a friendly collaboration.Enchanted Sheet Music
Enchanted Sheet Music Songbook: Paperback and digital download
DIGITAL DOWNLOAD -- click here and look down the page: Enchanted sheet music -- "Ever Every After, True Love's Kiss, Happy Working Song, That's How You Know, So Close
PAPERBACK: This 52-page songbook includes the delightful Alan Menken and Stephen Schwartz songs: True Love's Kiss, Happy Working Song, That's How You Know, So Close, and Ever Ever After. It also includes "That's Amore" from the soundtrack, by Jack Brooks and Harry Warren.
Enchanted Songbook - Piano/Vocal/Guitar print version A Hal Leonard Publication. Paperback.
Q and A with Stephen Schwartz about the movie Enchanted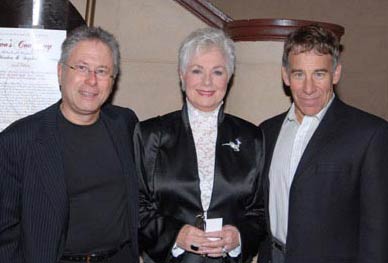 RECENT PHOTO: Alan Menken, actress Shirley Jones, and Stephen Schwartz at a tribute to Menken & Schwartz and benefit concert for Los Angeles City College Theatre Academy held in Los Angeles, November 5, 2007. Photo by Daniel Lam.
From an email interview Nov 9, 2007
Carol de Giere: For Enchanted, did you sit with the writers, as you do with animated films, to find the song moments?
Stephen Schwartz: The screenplay existed. Three of the song moments were indicated, and the couple we came up with we proposed to the director.
CD: Did you approached Enchanted as a musical?
SS: Yes and no. It's clearly a romantic comedy, but the songs that are there still further the story as in a musical.
CD: Is there's anything resembling an "I Want" song?
SS: Yes, the opening, "True Love's Kiss."
CD: Did lyrics come first on any of these?
SS: We worked the way Alan and I nearly always do -- a title first, then the music -- sometimes written with me in the room and sometimes not -- and then the lyric.
CD: Did you have your usual good time working with Alan?
SS: Completely. I had a blast on this project.
CD: Thank you.
EARLIER Q and A posted on Schwartz's website
1) What kind of animation will be used to create the fairy tale world scenes?
2-D. It is a tribute to the classic Disney look of SNOW WHITE and CINDERELLA.
2) Did you replace Glenn Slater as the lyricist?
No. Glenn (who is an extremely talented, smart, and witty lyricist and entirely capable of doing a brilliant job on ENCHANTED) is working with Alan on several other projects, hence the confusion. At one time, perhaps, it was discussed that he and Alan would do a song for ENCHANTED -- before it was to be a more heavily "musicalized" project -- but once Alan was brought on for the present movie, I came with him.
Another Q and A
1) What attracted you to this project?
I have long wanted to do a live-action movie musical. ENCHANTED is a very clever concept that allows characters to sing within the world of the film, which is often difficult to achieve. Plus I thought the screenplay they sent me to read was, well, enchanting.
2) When did you learn you were going to be reunited with Alan Menken? What was it like after ten years to work with him again? Yes, I've read you both enjoy a good friendship, but has much changed after a decade long hiatus in terms of working together?
It was Alan who first told me Disney wanted me to do the project with him, so I knew at the outset. Our working relationship remains a very good one -- the fact that we are such good friends makes it very easy to collaborate, plus of course the fact that we have high regard for one another's work.
MORE COMMENTS: "The biggest problem with doing live-action musicals is justifying why the characters are suddenly bursting into song in the middle of very real sets and very real situations," says Schwartz. The concept of Enchanted does so in a way that is true to the characters.
Excerpt from LA Times Q and A
LA Times: Talk about your objective in writing and composing the songs for "Enchanted," as they're filled with references to past Disney films.
Stephen Schwartz: We were trying to channel, I guess, classic Disney, and push it just a step further. We were trying to walk the line of both being an affectionate homage, but also poking a bit of fun at it. As one moves through the film, the music gets increasingly modern.
More notes: Get ready to be charmed and energized by the five pieces that Menken and Schwartz wrote for the new movie in various styles and tempos. Also, Menken's underscore promises fun for Disney movie fans. One commentator who saw an early screening suggests: "You may want to take a long a scorecard to keep track of all the references they've thrown in to earlier Disney stories and songs: Some of them are obvious, while others go by almost in a flash." Menken and Schwartz previously collaborated on Pocahontas and The Hunchback of Notre Dame, and are close friends. For Enchanted, their credit is listed as "songs by" Menken and Schwartz.
Disney Movie Enchanted Film locations and Updates
From a Sept 26 interview article about director Kevin Lima: "Enchanted, Lima said, has references to many of the old Disney animated princess movies. "There are many Disney moments that anyone familiar with the films will find mirrored back at you," often whimsically. Disney had optioned the screenplay from an out-of-the-blue spec work by writer Bill Kelly nine years ago. When Lima came onto the project 2 1/2 years ago, after other directors had tried and failed to make it work, "I had to say, 'I love Disney, so now let's turn it on its ear,' " he said with a chuckle. For example, Lima said that the rats who are seen helping the princess, played by Amy Adams, scrub a toilet in the movie trailer currently in theaters are a reference to the forest animals that often helped such Disney princesses as Snow White and Cinderella with their housework. "They had rabbits and squirrels and birds. In Enchanted, she has to make do with what's on hand — rats and cockroaches and pigeons."
ENCHANTED Film locations include:
* Central Park, Manhattan; Times-Warner building at Columbus Circle
* New York City Times Square
* Tribeca, Manhattan.
* Steiner Studios - 15 Washington Avenue, Brooklyn Navy Yard, Brooklyn
(studio)
From August 1 2007, comments on Playbill.com about Enchanted's Theatre connections:
...The movie's animated characters pop up into real life in the heart of the theatre district, in New York City's Times Square, with billboards of musicals (though some, like The Wedding Singer, now closed) setting the scene. Fittingly, the ensemble (and vocal cast) is filled with some stars of Broadway: Gregory Jbara (Dirty Rotten Scoundrels), Judy Kuhn (Les MisÚrables), Brian d'Arcy James (The Apple Tree) and Daniel Mastrogiorgio (Contact), among others. Julie Andrews (My Fair Lady) provides narration.
To stay informed about Stephen Schwartz's work, subscribe to my free quarterly email newsletter The Schwartz Scene
Resources for Further Research on Disney Movie Enchanted
Stephen Schwartz has also answered questions about Enchanted on his discussion forum
<<Were some songs (from ENCHANTED) easier to write than others?>>

Stephen Schwartz: First of all, let me say that the entire process of writing songs for ENCHANTED was a total blast for me. Bill Kelly's screenplay was in terrific shape when I came on board the project, so where the songs should come and what they should be was fairly clear, and our director, Kevin Lima, had a great understanding of how songs could work in the movie and was terrific to work with. Plus I always have a lot of fun working with Alan. Of course, as always, some of the songs were easier than others -- "Happy Working Song" and "That's How You Know" in particular came pretty quickly. I guess the most challenging (and of course it is a love song, albeit gently satirical) was "True Love's Kiss", the song in the animated section -- it took a few tries to find the right mix of homage to classic Disney scores like "Snow White" and "Cinderella" and Alan's and my original voice, plus the structure was tricky to work out. But the whole project was a lot of fun.

<<Was there any idea of giving Queen Narissa a song?>>

Stephen Schwartz: Yes. In fact, Alan and I wrote a song for her entrance into New York called "Nobody Gets in My Way", but Kevin Lima didn't go for it. It's one of the few places I disagree with him -- I still think she should have had a song and I like the one we came up with.

-----------
Is Enchanted a Musical? Kevin Lima talks about what it is in an interview: "... It's a hugely complicated movie because it has so many elements and embraces so many different genres. It's a romantic comedy. It's a musical. It's got some action adventure. It's a 2-D animated movie. It has a lot of 3-D computer generated characters."
"Basically, it's Disney kind of deconstructing and reconstructing in the same piece," composer Alan Menken said. "In one sense, the cynics are brought into this and go, 'OK, I get the joke,' and on the other hand it's got a heart to it. My hope is that it will really enlist the audience in knowing that they're involved in something both smart and moving."
You are on MusicalSchwartz.com Enchanted page. READ ALL ABOUT STEPHEN SCHWARTZ
In addition to the information provided here, the page contains affiliate links. If you make a qualifying purchase after clicking on a Musicnotes, Amazon, or Sheet Music Plus link, we receive a commission, which helps support this independent website.