Disney's Geppetto and Son
Based on the original Disney television musical Geppetto, this stage adaptation featured music and lyrics by Stephen Schwartz and book by David Stern.
Important Note: Disney has now renamed this musical Disney's My Son Pinocchio: Geppetto's Musical Tale. For more information on the availability of this family friendly show for community or professional performance please see our Disney's My Son Pinocchio page
Presumably this name change for the show reflects more public awareness of the name "Pinocchio" compared to "Geppetto," the father in the story. What follows is information related to the original stage production of Geppetto and Son.
ON THIS PAGE:
About Geppetto and Son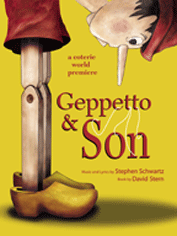 What about this father/puppet relationship?
In Geppetto and Son, as in the original Pinocchio story, a wooden puppet aspires to become a real boy, and faces lessons about telling the truth. In Geppetto and Son, Pinocchio's dad has some lessons to learn in being a real father. After many adventures, the two manage to stumble into a caring, accepting relationship.
This new Disney musical is a stage adaptation of the television production Geppetto from May 2000.
Geppetto and Son Songs; lyrics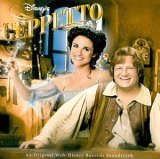 Hear clips or order Geppetto (2000 TV Soundtrack)
The songs on the original soundtrack:
Includes: Once Upon A Time / When You Wish Upon A Star, Toys, Empty Heart, And Son, Just Because It's Magic, I've Got No Strings, Bravo, Stromboli, Toys (Reprise), Satisfaction Guaranteed, Just Because It's Magic (Reprise), Pleasure Island, And Son (Reprise), Since I Gave My Heart Away, Since I Gave My Heart Away - Sonya Isaacs (single version)
Geppetto and Son Songs:
Prologue
"When You Wish Upon a Star" -- sung by the Blue Fairy
ACT I
"Toys" - townspeople, Geppetto [for lyrics see Geppetto - Toys page]
"Empty Heart" - Geppetto
"Rise and Shine" - Automatons (in a clock-like structure) - NEW
"Geppetto and Son" - Geppetto, Pinocchio NEW MUSIC and some NEW LYRICS
"When You Wish Upon a Star" (reprise) - Blue Fairy
"I've Got No Strings" - Pinocchio, Stromboli
"Bravo Stromboli" - Stromboli
"Just Because It's Magic" - Blue Fairy, Geppetto
ACT II
"Satisfaction Guaranteed" - Professor Buonragazzo, Children of Idyllia
"Bravo Stromboli" (reprise) - Stromboli
"Pleasure Island" - Ringleader, Roustabouts, Deliquents
"Geppetto and Son" (reprise) - Pinocchio, Geppetto
Since I Gave My Heart Away- Geppetto, [Page includes lyrics]
and "Since I Gave My Heart Away" Finale - Company
Geppetto and Son Sheet Music
"Since I Gave My Heart Away" Sheet Music -- A version is available in the Stephen Schwartz Songbook
Geppetto DVD
Geppetto - at Amazon.com
DVD Disney TV version. Amazon.com review:
The "Bravo Stromboli" song is the most difficult song. Hear clips or order Geppetto (2000 TV Soundtrack)