Magic To Do
A cast album with new songs by Stephen Schwartz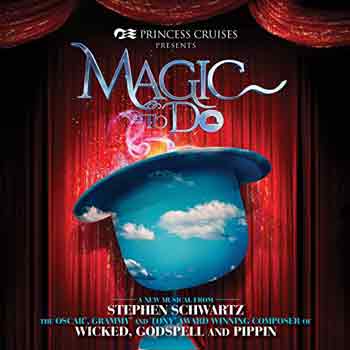 THIS PAGE includes details about the songs and show Magic To Do. You'll also find a link to buy the album and information on future cruise shows.
Magic To Do Album Songs
The Magic to Do cast album, released September 9, 2016, features previously unrecorded songs by Stephen Schwartz as well as new arrangements of some of his classic hits. For fans of Stephen Schwartz, this album (with lyrics in the CD booklet) will be especially valued for a new song "A Little Magic" and the only recording of two songs from Houdini: "Beyond Belief" and "It'll Be Me."
GET THE CD WITH LYRICS: Magic to Do album on Amazon.com (also available on iTunes and other services).

Track Listings with sources of songs (hyperlinks to more information about the shows)
1. Magic to Do – the opening number to Pippin
2. Before Your Very Eyes – The Magic Show
3. & 4 Corner of the Sky and No Time at All - both from Pippin
5. Day by Day - Godspell
6. Popular - Wicked
7. Prestidigitation – Reluctant Pilgrim album
8. Just Because It's Magic –My Son Pinocchio / Geppetto
9. Defying Gravity - Wicked
10. Beyond Belief - Houdini
11. It'll Be Me - Houdini
12. Colors of the Wind - Pocahontas
13. A Little Magic – New – exclusively for this show.
14. When You Believe (except) – The Prince of Egypt movie and stage musical.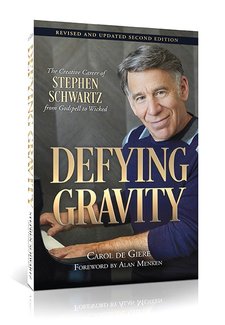 READ ABOUT ALL THESE MUSICALS IN DEFYING GRAVITY Stephen Schwartz biography updated 2nd edition. Defying Gravity 2nd edition
This historic album from Princess Cruises in conjunction with DMI Soundtracks marks the first Original Cast Recording from a cruise line. The album comes from a revue-style show developed for the 2015-2016 cruise season. Stephen Schwartz worked with the show's cast and others on the recording in Nashville in advance of the cruise performances. During the live show with audiences, the vocals tracks were muted so that the actors could sing live while an enriched orchestral track played from the recording. Now the combined tracks provide a cast album for listeners around the world to enjoy.
Stephen Schwartz has always appreciated magic, even from childhood, and in the mid 1970s wrote the score for a hit Broadway musical The Magic Show, featuring the magic of Doug Henning. Read all about his background and creative process in the Stephen Schwartz biography Defying Gravity: The Creative Career of Stephen Schwartz, from Godspell to Wicked.
For Magic To Do, he recruited magician Jim Steinmeyer to design illusions that could be performed around the songs. Steinmeyer has worked on illusions with magicians such as Doug Henning, Siegfried & Roy, and David Copperfield.
Here is a 1-minute long video showing clips of the scenes from Magic To Do and read more details below.
About the Show Magic To Do
As Pippin fans know, "Magic to Do" is the title of the show's opening number. It also seemed an appropriate title for the first cruise show of Schwartz's that would focus on magic. "A 55-minute, Broadway-meets-Cirque-du-Soleil-on-the-high-seas anthology," says David C. Nichols, writing in American Theatre magazine. He adds, "A vague narrative weaves through the show, following two couples: the married Adam (Kurt Robbins) and Eve (Stephanie Hongdon), and burgeoning romantics Pip (Danny McHugh) and Cat (Courtney Stokes). But the real focus is on Schwartz's songs—and as comprehensive a sampler of magic tricks in one show as this writer has ever seen."
The set design, costumes, and lighting enhanced the magic effects that interwove the songs. Examples of illusions included disappearing and escaping, sleight of hand, and levitation. During a tightrope act, one of the singers performed "Corner of the Sky." Someone was sawed in half during "Popular." Puppets came on the scene to contribute dancing and a kickline for "No Time at All." According to Nichols, the climax was breathtaking with "Colors of the Wind" performed along with a pas de deux swept with swirling-chiffon fabric (coloring the wind).
About the cruise show, Schwartz has commented that he'd been waiting for a long time for a first-rate revue and Magic To Do seemed to fit the bill.
Stephen Schwartz explains his affection for magic acts by saying: "As a kid, I always liked magic. It was theatrical, and it was an intellectual challenge to try to figure out how seemingly impossible things were accomplished. I think maybe subconsciously I was hoping there would turn out to be such a thing as 'real' magic. When I was in high school and I wrote my first full-length musical, mercifully unproduced, the main character was a witch. This is probably all part of the ongoing theme in my work dealing with the tension between romantic ideals and facing reality."
Magic To Do Documentary
A documentary video on the development of the show is now online. See https://youtu.be/D4_LzfIjMYY.
From the first announcement through the cast recording, the video includes visuals that give us a sense of what the show was like and what happened during its creation. It includes interviews with the creative team and shows scenes from auditions, rehearsals, costuming, puppetry development, magic, special effects, sound design and the original recording.
More Cruise Shows from Stephen Schwartz
Stay subscribed to The Schwartz Scene to be informed of future musicals, including more cruise musicals.
First show: Magic to Do (2015-2016)
Second show for 2016-2017: Stephen Schwartz and his team of professional creators, entitled Born to Dance, a tribute to Broadway choreography featuring inspired performances that celebrate some of Broadway's most famous hits.
Third Show - In the planning stages: Schwartz said in an interview that this show is being created by John Tartaglia. It will be Asian themed, based on a Japanese folktale, and will involve puppetry.
Fourth Show - In the planning stages: A show related to an earlier piece, My Fairy Tale or Mit Eventyr.
Schwartz has been enlisted to oversee the creative development for a total of four new musicals to debut across the Princess line's global fleet. He has said, "I'm excited about the possibility of using the enormous resources available with Princess to create new and innovative theatrical entertainment. Their onboard theatres are Broadway-caliber venues with state-of-the-art technical capability, and coupled with their access to first-rate performers, I see it as an extraordinary and almost irresistible opportunity. I have already received overwhelming and enthusiastic interest from talented colleagues – writers, directors, and designers to whom I have spoken – and I hope together we will create new kinds of cruise ship shows to entertain and inspire Princess guests unlike any other productions at sea."