Schikaneder
A new romantic comedy musical, with music and lyrics by Stephen Schwartz
The next new Stephen Schwartz musical opens in Vienna Austria on September 30th, 2016. It will be performed in German with English surtitles.
Mark Seibert plays Emanuel Schikaneder (the librettist for The Magic Flute) and Milica Jovanovic plays Eleonore, his wife. Tickets are available from the official website for the musical premiere: MusicalVienna - Schikaneder. Read more in English below:
About the New Musical Schikaneder
Stephen Schwartz is collaborating on a musical that is largely based on historical personalities and incidents leading up to the premier of Mozart's opera The Magic Flute in 1791. The show is named after one of two leading characters, Emanuel Schikaneder, who lived 1751-1812 and was the librettist of The Magic Flute.The show unfolds the turbulent love story between Emanuel and his wife Eleonore.
Stephen Schwartz and his bookwriter colleague, Christian Struebeck, have been holding meetings in person or by Skype between Austria and Connecticut. They are also collaborating in London and Vienna with the show's director, Trevor Nunn, who has been closely involved with the developmental readings of the new musical.
Photo: Christian Struppeck and Stephen Schwartz in a meeting in Vienna, Austria, January 2015. (Photo by Sandra Schennach)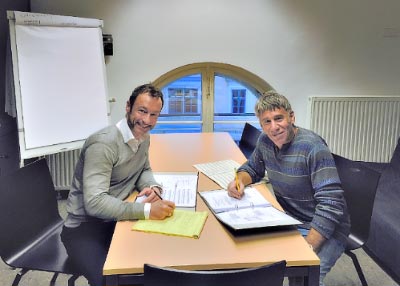 Schikaneder Development
Schwartz's long-time friend Christian Struppeck is the artistic director of Vereinigte Bühnen Wien (United Stages Vienna). Several years ago he approached Schwartz about the concept for the new musical. Schwartz comments, "It was one of those ideas that I loved as soon as I heard it, and I said yes before I could stop myself."
Schwartz's music for Schikaneder includes flavors of classical and operatic music along with his usual contemporary musical theatre style. As Christian comments,"Stephen successfully used little references to bring Mozart into a completely independent, fascinating and new musical world. He creates magical, catchy melodies that have big audience appeal and that form the wonderful, romantically-witty foundation for this singular story."
Christian has said in an interview for BroadwayWorld.com, "If you tap into Emanuel Schikaneder's life you will discover a shining theater personality with an ... instinct for the popular, for stage magic and courage for experiments. An animal of the theater, a theater magician, one who always strived for the biggest effect, the most innovative, the most impressing. To shine light on such a personality is always appealing for theater creators."
Read about the Press Conference introducing Schikaneder. Keep up with this musical and other projects of Stephen Schwartz by subscribing to The Schwartz Scene newsletter.
Defying Gravity - the Stephen Schwartz biography
The Stephen Schwartz biography Defying Gravity is available around the world through Amazon.com and other stores, including Amazon.de and Dress Circle in London. See Defyinggravitythebook.com for locations and reviews.
A German language review of the book was published in Das Musicalmagazin and has been posted by the author here: Kultur-channel.at review of Defying Gravity
Video Introduction to Schikaneder
Stephen Schwartz comments on his involvement in this new musical. He explains that the colorful story and setting of the Schikander and Eleonore store appealed to him as a good subject for a musical.