Schikaneder the New Musical
A new romantic comedy musical, with music and lyrics by Stephen Schwartz
A new Stephen Schwartz musical opened in Vienna Austria on September 30th, 2016, exactly 225 years after the opening night of Mozart's The Magic Flute. The story is centered around the famous opera's librettist, Emanual Schikaneder and his wife Eleonore.
The spectacular production features a book by Christian Struppeck and direction by Sir Trevor Nunn. It is performed in German with English surtitles. The theater is currently booking tickets through June 30th, 2017. MusicalVienna - Schikaneder. Mark Seibert plays Emanuel Schikaneder (the librettist for The Magic Flute) and Milica Jovanovic plays Eleonore, his wife.
Schikaneder Cast Album
Schikaneder cast album in German is now available. In the USA find it here: Schikaneder cast album
More About the New Musical Schikaneder
American composer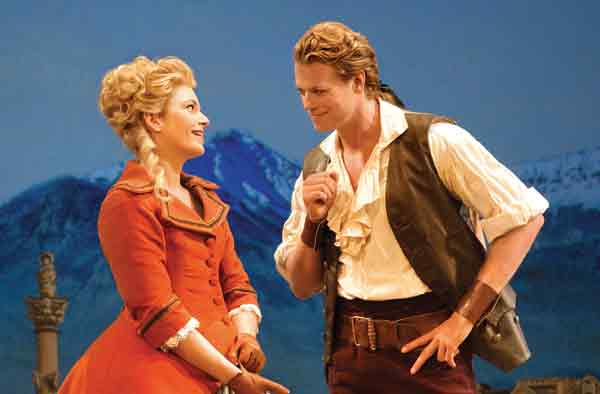 Stephen Schwartz has collaborated on a musical that is largely based on historical personalities and incidents leading up to the premier of Mozart's opera The Magic Flute in 1791. The show is named after one of two leading characters, Emanuel Schikaneder, who lived 1751-1812 and was the librettist of The Magic Flute. The musical unfolds the turbulent love story between Emanuel and his wife Eleonore.
Emanuel Schikaneder was the founder of the Theater an der Wien and is still considered a Viennese theatrical legend, the most significant impresario and theatre practitioner of the 18th century. The idea for an opera The Magic Flute originated with him. He wrote the opera libretto and he played the first ever Papageno at the opening night at the Wiener Freihaustheater, conducted by Mozart himself. The new musical gives the audience a behind-the-scenes look at that long-gone theatre world. It also explores the ups and downs in the relationship of a fascinating 18th century theatrical couple without whom one of opera's greatest works, The Magic Flute, would never have been written.
Stephen Schwartz and his bookwriter colleague, Christian Struebeck, held meetings in person or by Skype between Austria and Connecticut. They also collaborated in London and Vienna with the show's director, Trevor Nunn, who has been closely involved with the developmental readings of the new musical.
For this world premiere production, the theater attracted an international creative team that included Anthony Ward, Tony and Olivier Award winner who designed period sets and costumes. It also included choreographer Anthony van Laast, long-time Broadway orchestrator David Cullen, and others.
Photos: Above: Scene from the show with Milica Jovanovic (Eleonore Schikaneder) and Mark Seibert (Emanuel Schikaneder). Below: scene with ensemble. (PHOTOS from Schikaneder are copyrighted by Deen van Meer for VBW, used with permission.)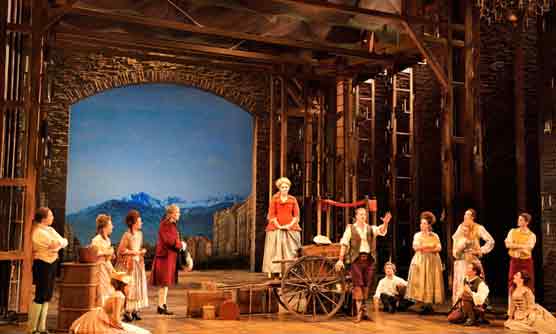 Schikaneder Musical - Synopsis in English
THE TURBULENT LOVE STORY BEHIND THE MAGIC FLUTE
The multi-talented young actor, singer, poet, director and theatre manager, Emanuel Schikaneder, is a hit with audiences right from the word go. His on-stage charisma is equalled only by the force of his charm off-stage - women throw themselves at him by the score. But it is only Eleonore who manages to win his heart, and from then on the two make a brilliant couple, on stage as well as off. It seems that nothing can stop the meteoric rise of Emanuel and Eleonore Schikaneder. They found their own theatre troupe, entertaining audiences from Augsburg to Vienna. Their flair for theatre and feel for what audiences want brings them gales of applause wherever they perform. Soon their fame precedes them wherever they go. Schikaneder is now able to achieve his greatest theatrical dreams as a director and his skilful mix of poetry and spectacle delights audiences across every social class.
Only one thing tarnishes the magic the couple share: Schikaneder's constant infidelities. Eventually Leonore decides to go her own way and leaves with Johann Friedl, a young member of the troupe, to manage the "Theater auf der Wieden", an enterprise that is not exactly crowned with success. To add to her misfortunes, her partner dies and she finds herself confronted with the choice between giving up her theatre or asking her not-yet-ex-husband, Emanuel Schikaneder, to run the theatre with her. Together they go on to create one of the greatest theatrical triumphs of all time.
The love they once shared is put to a new test: only if they can regain their trust in each other and work together, will they be able to recapture their lost theatrical magic and go on to still greater things. A balancing act begins between trust and turning away. This vibrant musical comedy combines romantic and comic scenes with serious and emotional moments, and transports us into the colourful and turbulent world of Viennese theatre at the end of the 18th century.
Schikaneder Development
Schwartz's long-time friend Christian Struppeck is the artistic director of Vereinigte Bühnen Wien (United Stages Vienna). Several years ago he approached Schwartz about the concept for the new musical. Schwartz comments, "It was one of those ideas that I loved as soon as I heard it, and I said yes before I could stop myself."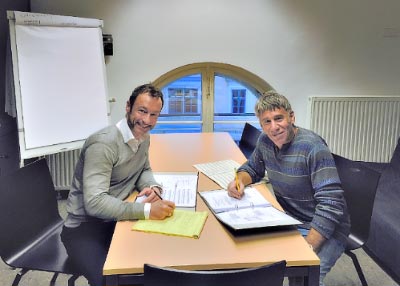 Schwartz's music for Schikaneder includes flavors of classical and operatic music along with his usual contemporary musical theatre style. As Christian comments,"Stephen successfully used little references to bring Mozart into a completely independent, fascinating and new musical world. He creates magical, catchy melodies that have big audience appeal and that form the wonderful, romantically-witty foundation for this singular story."
Photo: Christian Struppeck and Stephen Schwartz in a meeting in Vienna, Austria, January 2015. (Photo by Sandra Schennach)
Christian has said in an interview for BroadwayWorld.com, "If you tap into Emanuel Schikaneder's life you will discover a shining theater personality with an ... instinct for the popular, for stage magic and courage for experiments. An animal of the theater, a theater magician, one who always strived for the biggest effect, the most innovative, the most impressing. To shine light on such a personality is always appealing for theater creators."
Read about the Press Conference introducing Schikaneder. Keep up with this musical and other projects of Stephen Schwartz by subscribing to The Schwartz Scene newsletter.
Defying Gravity - the Stephen Schwartz biography
The Stephen Schwartz biography Defying Gravity is available around the world through Amazon.com and other stores, including Amazon.de and Dress Circle in London. See Defyinggravitythebook.com for locations and reviews. The book focuses on Schwartz's creative process and career from Godspell through Wicked.
A German language review of the book was published in Das Musicalmagazin and has been posted by the author here: Kultur-channel.at review of Defying Gravity
Schikaneder is Directed by triple Tony-winner Sir Trevor Nunn
Stephen Schwartz has been a long-time admirer of Trevor Nunn's work. He had worked with Trevor on the revised London revival of The Baker's Wife and has always claimed that Trevor solved the problems of the show conceptually.
At the press conference May 10, 2016, Trevor Nunn spoke through a video connection about his interested in directing the show. He said, "Stephen Schwartz is that very rare thing of a composer and lyricist. I worked with Stephen many years ago and we became very good friends. When he contacted me saying he'd got a new project that he would like to talk about, I said I don't need to know anything about it, I'd just love to be involved. That's evidence of how much I hugely admire him. When I discovered that essentially the show was not only a love story in the mode of Kiss Me Kate of off-stage/on-stage story between two very tempestuous individuals, but it was also the story of how chaotically one of the world's great opera got invented and composed (The Magic Flute), I became 100 times more excited than I already was. What could be more exciting than something that involves the intellect, involves the emotions, involves a sense of history, involves something that is highly theatrical, and is full of surprises and originality?"
Cast and Sample Song
In addition to Milica Jovanovic (Eleonore Schikaneder) and Mark Seibert (Emanuel Schikaneder), the cast includes 30 other professionals. This video is of one of the songs sung in German.
To hear more songs, listen to clips on the Sitzprobe video on the Schikaneder website or Youtube.