Godspell 2001 - Alex Lacamoire Orchestrations and Arrangements

PHOTO left to right: Alex Lacamoire, Michael Lavine, Carol de Giere, Stephen Schwartz. Photo taken during a Godspell discussion session in 2005. [Photo by Glenn Weiss]
Godspell - 2001 Touring Cast Recording

Godspell Touring Cast [new browser window] - CD or MP3s.
TO USE ALEX LACAMOIRE'S ARRANGEMENTS IN YOUR SHOW, fill out the contact form on the bottom of the page at www.Godspell.com and include the message that you would like to have forwarded to Alex regarding licensing.
Godspell Orchestrations - 2001 By Alex Lacamoire
Originally published as part of The Schwartz Scene newsletter.
Alex Lacamoire: When Scott Schwartz approached me about updating the music for Godspell, I was immediately excited. I've known the songs since my teens, having done a production of it in high school. Scott's concept was this: When Stephen wrote the score in 1971, he was influenced by the rock and folk music of the time. But what if he had written it today, using the rock and folk influences of our time? I thought it was a great concept, and one that I was up for trying. Listening to the 1971 cast recording has always been a great snapshot of the show and its era, but it's always sounded dated - it's certainly the sound of the '70s. We wanted to revive the music, to present the same songs and lyrics with a contemporary feel.
I honestly love all types of music - pop, R&B, jazz, heavy metal, country, musical theater. . .you name it. But what's always resonated the most with me is rock 'n' roll, particularly alternative rock from the '90s. So I found it really easy to infuse the music of Godspell with the sounds of today's rock. The whole arranging process was basically me taking each song and thinking: "Wouldn't it be cool if we did things this…"
"Bless The Lord" was originally a piano-rock song in the style of Laura Nyro, and I wanted to make it sound like a piano-rock song in the style of Tori Amos. In the movie, "Beautiful City" sounds very '70s, with an easy shuffle feel. I wanted to kick it up and make it funkier, almost like a Dave Matthews Band Song. "By My Side" originally evolved around folk acoustic guitars, and I wanted to revolve it around an acoustic piano, perhaps like Jewel's "Foolish Games." "Save the People" felt like it could've been a great Blink-182 song. "We Beseech Thee" sounded good to me in a gospel feel as opposed to a hoe-down. On "All Good Gifts," I made a cello feature and added electronic drum sounds, as if Fiona Apple recorded it.
I never set out to dramatically change any of the original chords or melodies. The songs are still Stephen's, and they're still wonderful songs. They have his beautiful melodies, his soulful/folksy chord progressions - they're as wonderful today as they were in 1971. He's one of the best.
I was asked about recordings and songs that influenced the arrangements: "Cornflake Girl" on Tori Amos'; "Under the Pink" influenced "Bless the Lord"; "What's My Age Again" on Blink-182's; Enema of the State" influenced "Save the People." Other great recordings: Fiona Apple's "When the Pawn. . . " and Dave Matthew's "Crash."
Stephen has been very supportive of my work on the show. I played him demos of the arrangements in their earliest stages and he was really happy with them. He was there for the recording of the album, and has been telling me that he'll be thrilled to have this album out there.I'm really excited about the CD coming out - it'll be in stores on January 9th, and I can't wait for people to hear it. I know that there will be people out there who will compare it to the original 1971 recording and feel that it "sounded better back then." There's no denying that the folksiness of the original is dear to many people's hearts. I just tried to make these songs sound current, but some people may not even like the sound of current rock music to begin with!
While I'll certainly understand if people prefer the older Godspell, I'm extremely happy with this album and this show. I'll be happy if I turn on some younger people to this amazing rock musical score, but I'll be more thrilled by those who know the original and like my new arrangements as well.
Essential Reading for Godspell Fans
1) The Godspell Experience is a new book on Godspell, featuring a Foreword by Stephen Schwartz, colorful stories about each song, and much more.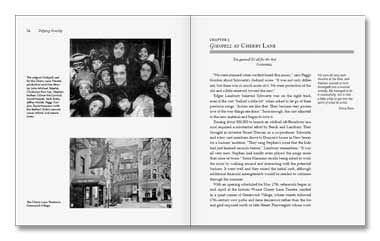 2) The Stephen Schwartz biography Defying Gravity: The Creative Career of Stephen Schwartz, from Godspell to Wicked features photos of original cast members, and fascinating details about the making of musicals and Stephen Schwartz's creative process.
Pictured to the left is a page spread from Defying Gravity, showing a photo of the Godspell cast gathering around John-Michael Tebelak (center), and a photo fo Cherry Lane Theatre.
On Working with Father and Son -- By Alex Lacamoire
In January of '99 I was hired as an audition pianist for a revival of WORKING. I was totally shocked when I saw Stephen Schwartz walk in, because I didn't know he was going to be there. I'd been a HUGE fan of his stuff since age 13, and I never thought I'd ever get a chance to meet him, yet there he was. After playing for the 3rd audition, Stephen said he liked my playing and asked for my card (wow!), and after the 5th audition, he wanted me to be involved in the show (oh my God!).
So there it began - I was Assistant Musical Director to Danny Kosarin, and we did a great production of WORKING. Since then, Stephen and Danny have called on me to do other projects: a reading of THE BAKER'S WIFE at the Roundabout Theatre, and a revival of PIPPIN at the Paper Mill
Theatre.
In August of '99, I got a call from a composer named Larry O'Keefe. He was about to do a reading of his show, BAT BOY: THE MUSICAL, directed by Scott Schwartz. They were looking for a music director, and Stephen had recommended me to them. That's how I met Scott. I was hired to do BAT BOY, and Scott and I hit it off. Since then, we've worked together on two other presentations of BAT BOY, as well as a reading of a John Bucchino musical called URBAN MYTHS. Then Scott was hired to do a modern version of "Godspell," and he invited me to jump aboard as music director. And now, Scott and I are about to begin rehearsals for BAT BOY, which will open Off-Broadway in March!
Scott is wonderful. We work extremely well together because we really trust and respect each other's work highly. He's brilliant - he has a great feel for theater, and a keen sense of direction for a show and its characters. He's really going to aspire to great things, and I hope that I can go along with him!