Godspell New Broadway Cast Album
With New Vocal Arrangements and Orchestrations

Buy the cast album CD here Godspell New Broadway Cast Album CD
Ghostlight Records brings you a new album for Godspell the musical, with music by Stephen Schwartz and fresh orchestrations by Michael Holland.
"Beautiful City" Sheet Music - Get "Beautiful City"- instant download by Stephen Schwartz. VERSION: Broadway Revival as sung by Hunter Parrish and the company of Godspell.
In addition to the information provided here, the page contains affiliate links. If you make a qualifying purchase after clicking on a Musicnotes, Amazon, or Sheet Music Plus link, we receive a commission, which helps support this independent website.
Michael Holland and the New Sound of Godspell
The New Godspell Orchestrations and Vocal Arrangements - 2011
By Carol de Giere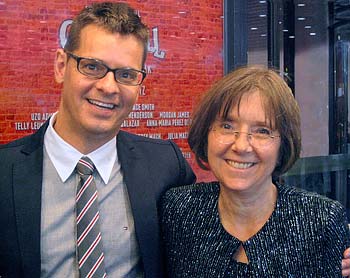 How did Godspell get a new sound? Here's the story, based on an exclusive interview with the new Broadway production's orchestrator and vocal arranger!
A Broadway Revival Score
When Michael Holland sat down with his guitar and keyboard to make musical decisions for Godspell, he faced the challenge of every Broadway revival: finding the right preservation vs. innovation equation. If he diverged too much from what devoted fans of the 40-year-old musical know and love, he'd lose them. Yet he believed his job was to make the score sound new and "give younger audiences something that they can latch onto." He asked himself, "How do we keep it streamlined and accessible but not reinvent it?"
Forty years ago when the show first appeared, it was sometimes labeled as having a "folk-rock" score. Holland associates the label with the Byrds, Lovin' Spoonful, and Laura Nyro and doesn't feel it does justice to the versatility of Godspell's score or that there's any reason not to adjust the feel of the numbers. "Because the songs are in the pop music idiom, you can almost do anything to them and they hold up."
GUITAR-ORIENTED
Holland used the original cast album, rather than some of the more recent ones, as a springboard for his orchestrations because it "has the purest representation of what the songs are." Except that Stephen Schwartz was primarily a keyboard player and a keyboard sound predominates on the original. Whereas Holland had spent years as a singer-songwriter with his guitar and wanted a "heavier guitar presence" for the show. It wasn't just a personal choice to let the guitar sound "anchor" this production. It also related to director Danny Goldstein's concept that Godspell was being staged in an abandoned theatre. Guitars are portable instruments that could easily be brought in after the Prologue, as if for a spontaneous jam session.
In discussions with the music director, Holland explained that one guitar was not enough. "You listen to rock records, those guitars are layered. That's why it has so much more punch than if you just take one and run it through a fuzz box. So if we combine the different voicings and give them different effects, it will fill the room in a much bigger way—in a way that today's listeners are used to hearing."
So Holland wrote the revival's orchestrations for three six-string guitars—some mix of acoustic and electric— electric bass, piano, and percussion. The piano they would be using is a special one that can convert into a synth keyboard as needed for special sounds.
CREATING MUSIC
Holland is both hands on and computer-oriented when it comes to writing scores. Generally he starts with a piece of paper and a pen to jot down his musical ideas. He uses recording and transcription software Finale, ProTools, and Reason. Once the music is printed, it's up to the music director, musicians, and the cast to explore how it works with the show. "Charlie's job as musical director is to teach them and my job is to sit in the back of the room and bite my fingernails," Michael reveals. He waits for the boss, in this case Danny Goldstein, to decide if revisions are needed. Stephen Schwartz has a bit of a say as well.
Holland had penned an orchestration draft for the previously announced Broadway revival-a production that fell through several years back due to funding issues. This time for lead producer Ken Davenport's revival, he worked through the summer of 2011 to complete the arrangements you hear on the recording.
Holland has been singing harmonies since he was three-years-old. "I live in vocal harmony land" he says, so arranging vocal parts was natural for him and was an essential part of his job. As for instrumentation, summarizing his job as "orchestrator," he says, "It's really just a fancy word for an arranger. And so basically you're not rewriting the songs, but you're taking a black and white drawing of them and coloring them in with your own set of crayons."
What colors did he use? What follows is a song-by-song look at the ideas and inspirations.
SONG BY SONG New Godspell Revival Cast Album
TOWER OF BABBLE (PROLOGUE)
Why is it a cappella? Michael Holland says, "Because Danny wanted it to be." This introductory piece sets up a contrast with the rest of the show. Musically it could be dissimilar if the band was silent. Holland adds, "Because the show is about a community that forms, Danny wanted 'The Prologue' to be the antithesis of that. He wanted the music to be a little more angular and dissonant, relating to their opposing viewpoints. (Then when you get to 'Prepare Ye,' the band comes out of nowhere and socks you into that other universe.)"
Holland worked on about five versions of the prologue over the summer. "When Stephen Schwartz came back to town, he came to my house. I made him climb all six flights of stairs and sit in my apartment with my cats, and then we ironed it out. And we gave it to that Godspell cast and thought okay, here we go. They never even batted an eye. They jumped right in. They're amazing."
PREPARE YE THE WAY OF THE LORD
The traditional Shofar is not heard in this score, even though Holland wrote "Shofar so good" on the arrangement sheets. Director Danny Goldstein wanted a bugle because it fit with the aesthetic. It could have been found in an abandoned theatre.
Michael Holland says about Stephen Schwartz's score, "I love all of his music. I like how seemingly effortless the melodies are but they seem so inevitable." This song is a good example. It's hard to imagine the cheery melody being written another way. As for the musical shading on "Prepare Ye," he says, "It had to rock, so we had to give the guitars some real weight."
SAVE THE PEOPLE
"The first verse of the original is basically a guitar," Holland comments, "Then you add a piano part, and then the band kicks in. What I wanted to do is, when the band kicks in, to change the feel of it. So we have an updated groove, but it still has an optimistic sunny vibe to it."
DAY BY DAY
The song "Day by Day" has two different tempos, beginning with a Waltz. "I call it a cowboy waltz because I put it on guitars," says Holland. "It's not quite a jazz waltz but it's not Strauss. It has a bit of a lilt to it. We kept the feel very largely intact because it's such an iconic song."
When it switches to 4/4 time, Holland decided to make it more strident. He felt that would make it more contemporary. "It's more sure of itself. The groove is more prominent. It's not afraid to have a little rock 'n' roll in it. If you listen to pop music now, some of the guitars are pretty hard core. The sound is a little more aggressive; a little more in your face. It's the norm of what people are listening to."
LEARN YOUR LESSONS WELL
When the show was cast, they knew which performer would sing each song. Celisse Henderson would sing this one. The director wanted to showcase everybody's abilities, which meant "Learn Your Lessons Well" had to have as much weight as the other numbers so it could be a special moment for Ms. Henderson.
The song is sometimes described as a "throw away" number so it required special care. Holland says of Celisse, "She's got 5 million abilities, so we brought a couple into this. So that's how it turned into the three-act opera that it's become. It's sort of turned into the "Bohemian Rhapsody" of the show. We have that middle section with all that crazy harmony, and then it really rocks out at the end. It's pretty fun."
Holland emphasizes about the actress, "Celisse is a revelation. You've never seen anything like her. This arrangement was built for her. Danny has worked with her before. She'll do anything [with instruments etc]. She plays the ukulele and then we wanted her to do a little more of a rock groove so we gave her another ukulele that is run through a fuzz box. And then the lamp part comes in, and then at the last part she comes out and plays electric guitar, which she learned for this."
"The Lamp of the Body" section:
In the original musical, between the verses of "Learn Your Lessons Well" is a spoken section using a fascinating style known as "echo talk," in which performers make each word echo, (as in "Lamp," "lamp," "lamp," spoken by different people creating an echo effect.)
For the previously scheduled revival, Goldstein asked Stephen Schwartz to turn "Learn Your Lessons Well" into a bigger number by converting this spoken section into music.
Schwartz gave Holland what was essentially a vocal line with some chords on top. He remembers thinking to himself, "What if we did a call and response so it would feel like a delay—but without an electronic delay? We would do it with real voices." He was able to pull it off in written form. Would the cast get it? He comments, "It's tricky but a lot of my harmony is like that. It's a little tricky if you look at it on the paper, and the first time you play it for the cast and they stare at you with their jaws open, but once they get into it, they realize that it's actually not..And the cast was amazing about that. They were up for anything." Charlie Alterman figured out how to conduct the echo using alternating hand gestures.
BLESS THE LORD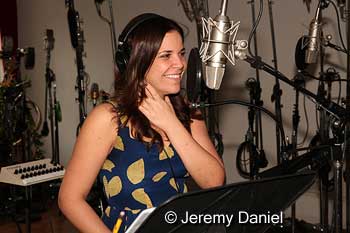 Holland reveals that the choreographer, Christopher Gatelli provided the vision for this piece. It's a major dance number as well as a roof-raising, high energy song to be sung by a powerhouse performer, Lindsay Mendez. "Chris would say things like 'I wanted to feel like Lindsay had light coming out of her.' So how do I turn that into music? I didn't know what that meant so I had to take a few stabs at it." PHOTO: Lindsay Mendez in the recording studio, for the new Godspell cast album, Bless the Lord.
Basing it, of course, on Schwartz's original number (for which he was inspired by Laura Nyro), Holland realized the piece had "three different feels," so his work would need to follow them. "The first feel is like a shuffle that happens to the verse. Then the choruses go into that 'Four on the Floor' rock beat. Then, at the end, it does a gospel turn."
As he arranged it, it was the verses that were giving him the most trouble because he was trying to give it a new feel. "In some cases I was doing a retro feel, but retro for 2011 not 1971. What ended up happening was we actually went back to more of the original arrangements and switched out the instruments [in other words, changed which instrument was playing each musical part, to give it a new sound]. Everything in the score has to be in the piece, so that's how we came to agree on it. We switched out a few chords here and there, and punched things up. And then let the vocal arrangements sort of carry it at the end."
The combination of effects has yielded a show stopping moment in the live performance. "We've had people stand up after that song. I was sitting with Danny one night and he said look - across the aisle in different pockets people were standing up. It was like a rock concert."
ALL FOR THE BEST
For the "All for the Best" number, Holland avoided changing things for change sake. "It has the whole Vaudeville shtick going on. I wanted to let the Jesus part have the Vaudeville feel. And then I added a hand jive feel to Judas. It's a Bo Diddly thing. Or if you're born after 1975 it's a George Michael "Faith" thing. It really supports that melody well and it gives them a different perspective."
Holland had seen Godspell many times, and knew the staging here traditionally included a gag where Jesus makes a cane appear but Judas can't get the cane to pop out. He liked the contrast of the characters, and wanted to "give them a different musical foundation that supports that."
At the end of the song, the whole cast joins in, and it takes on a fast Vaudeville feel. Holland says he kept the hand jive under that "So it's all happening at the same time." He adds, "I gave the guitars some goofy circus-y things to play at the end, but it wasn't a huge overhaul because the song is what it is."
ALL GOOD GIFTS
Talking about "All Good Gifts," Michael Holland explains some of his harmony philosophy. "A lot of time what they do with that song, it's like the Eagles could have sung it. I don't like that — even though I like the Eagles, but they had their time! I call it the claw. It's like you [spread your fingers out on the piano], and just move your hand along. That's not harmony, that's laziness. For me the excitement of harmony is hearing which voices don't move and which do, and how does it get bigger. How do you make 8 people sound like 16 people? You do it through these subtle changes and subtle movements. So that's what we've done with this song."
Holland also reveals what it's really like to work on a Broadway show in terms of getting feedback. He manages to stay cool even when the composer doesn't like a draft of his orchestrations or vocal arrangements. "I had a different arrangement that had more of a British electronica influence. Stephen [Schwartz] didn't like it, so he made me go back and retro it out a little bit. Then it got more James Taylory - acoustic guitars happening against Elton John piano stuff. Once I did that, Stephen started pulling elements from the electronica version back in. So it's a nice hybrid now." Photo: Hunter Parish and Telly Teung in the recording studio for the Godspell cast album.
LIGHT OF THE WORLD
Holland comments, "It was obvious to me that it was a guitar figure. It's Jimi Hendrix. So we let the guitar start here and the band kicks in."
This is George Salazar's featured song, with everyone joining in as a call and response and in harmony. Traditionally, in amateur productions, this song is given to the performer who is a non-singer who could speak some of the lines in rhythm rather than sing them. The actor might excel in physical comedy but not be able to carry a tune. For this production, physical comedy is George's forte but he also has a wonderful voice, so that's a bonus.
With Schwartz's music and all the talent contributing to the present version of the song, as Holland says, "It just rocks." And it sends the audience into intermission with a sense of belonging and fellowship because they've rocked along.
TURN BACK O MAN
Back in 1971, when Stephen Schwartz was writing songs for Godspell, he remembered the character Sonia Manzano portrayed in some of the parable scenes of the show. He had watched a version of the show performed at Café Lamama off-off Broadway. Sonia used a faux-sexy comic style that reminded him of Mae West in old black and white movies. When he wrote "Turn Back O Man" music for Sonia to sing, he used a vampy style suited to her character.
Holland spun off of that, only calculated a retro influence for the appropriate decade. "People who were born after I graduated from high school may have no idea who Mae West was. I figured out what is proportionally retro in 2011 to what was retro in 1971. I thought it would be the 60s. It would be Shirley Bassey; it would be a James Bond kind of thing. And the song is completely in that genre. If you take that feel and move it into a straight 4, it sounds like John Barry [score writer of early Bond films]. So I went on the limb. It's Goldfinger."
ALAS FOR YOU
"It's the hardest rocking song in the score so it seemed to me the guitars had to carry the lion's share of it," says Holland. "And that's how we did it."
BY MY SIDE
This stirring ballad is the only Godspell song for which Stephen Schwartz did not write the music. It features music by Peggy Gordon, and lyrics by Jay Hamburger.
What inspired this particular arrangement? Holland says it was the song itself. "I've always loved the song. It was one of the first songs I learned how to play on the guitar. And I've done a few different versions of this too. Initially Danny Goldstein wanted something that was way farther out there than we ended up with. And so I did something that was kind of like songs that the Bulgarian Women's chorus did in the 80s with strange, angular harmonies.  But Stephen Schwartz and producer Edgar Lansbury said it's becoming more about the vocal performance than what the moment is in the show, so we had to scale it back, and then slowly add some of the new material back in."
 "It's the same approach I used for Stephen's songs..It takes a light touch and it has to be acoustic, obviously, and it has to feel organic. But you can give it a little bit of a spin so that a modern ear doesn't tune it out."
WE BESEECH THEE
Holland knew several things about this number and the staging of it before he wrote the arrangements. He was quite familiar with Godspell's Act II, and how musically, it seems like a "ballad festival," as he calls it, and when the show gets to "We Beseech Thee," there's the uptempo number as a contrast.  "We have to really take advantage of it," says Holland. He also knew that at least some of the cast members would be jumping on mini trampolines while singing part of the song.
"I thought, if they are on trampolines, obviously they can't all jump at the same time, so their vocals need to pop in different places. So I thought, why don't we do a little of that, like a human calliope sound? It is initially a little difficult to get in everyone's bodies, but once it's there, it does really pop.
"That's another song that has sort of a Gospel music feel in the original [like parts of "Bless the Lord"]. We've already done that and we don't want to repeat ourselves. I had an idea. There's a British singer songwriter called Mika, and he has a really interesting feel to his music. It's straight ahead pop but there's a little bit of disco in there. The cool thing about a lot of the modern pop is that it draws on these older influences, and it's very honest about that. So particularly in British pop, you'll hear something that could have been a song from the 60s right next to something that is a disco song, and that's right next to a punk song. I love that sort of collage. So we used that sort of feel to anchor this song, and let the vocals go to town on it."
BEAUTIFUL CITY
Hunter Parrish's breathy vocal on this piece is mesmerizing both live and on the album. Holland subdued the orchestrations and tempo by request. It's a moment when the audience can ponder what is being said in Schwartz's lyrics about humanity's potential for creating a better world.
Holland: "That's been through a few different versions. What ended up happening was I had done a whole arrangement of it and they kept saying 'We want to make this a quiet moment, so just give us one chart and let Hunter and Charlie work on it in rehearsals and then come back.' So that's what happened. They played with it, elements of what I had in the other chart worked their way in, and that's the way it is now. His vocal on that song is so beautiful."
ON THE WILLOWS
"That's in 12/4 or some crazy time signature," says Holland about the original song and recording. "It was always a piano arpeggio. I knew how to make that happen on the guitar. You just detune one string and all the notes will ring out. So that's what we did. It's a regular tuning but with a dropped "D" on the bottom. It's the same chord formation but every note of it rings out in a way that doesn't get muddy. And then the other elements I added were pretty sparse..I thought putting it on the guitars, primarily, would give it a lightness that the piano doesn't necessarily let it have."
FINALE
Michael Holland is known for his mash-up approach: for his live concerts he often blends together threads of pop songs for the fun of it. He wanted to try it for the ending of Godspell. "It was a huge mash up. Everyone was liking it, but then Stephen had the idea to put 'Beautiful City' here instead of all this other stuff." Schwartz thought that the lyrics to "Beautiful City" fit the moment.
Holland continues, "That was another thing when he came to my house that we played with, and it ended up being what it is. I love it. I think it's so cool. And it's really fun to watch the younger people who don't know the show who see things being brought back in and . it basically says what the entire show is saying. These people who came from all different corners and now they are all together. It really does sum it up. And I think it does so really eloquently in that musical moment."
About Michael Holland
Michael Holland was born in 1963 and grew up in Southeastern Connecticut surrounded by music and musical influences. "My grandmother taught me a lot of songs when I was small. Her brothers were jazz musicians. There was always music around."
One of his first musical memories is from when he was three years old. His mother was singing along to a song on the radio. "I noticed she was not singing what was on the radio. I said, 'What are you doing' and she said, 'It's harmony.' I made her teach me. She said, 'You're too young, you won't be able to do it.' I said, 'I can do it, I can do it.'
She lifted him up to sit on the washing machine and started singing "Twinkle Twinkle Little Star," and had him sing it as well. Then she asked him not to sing her part because she was going to sing another. At first he couldn't do it, but then he begged to try again. "I didn't listen to her and I got through it! I would go and practice [the harmony line] with all the records. And that was just a thing I always did.
He learned voice, guitar, and piano at a young age, and still mainly considers singing his strongest suit.
When he was about ten years old, he was in a gifted education program. The teacher knew of his interests and one day showed him the vinyl record album of an off-Broadway show.  "This is what you're going to do when you grow up," she said, thinking he might be a stage performer. It was the Godspell album. Holland recalls, "I didn't have that many albums and that was one that I played every day, so I know it backwards and forward." The teacher even brought him to New York City to see the show. (He returned the favor and brought her to opening night of the revival.)
Along the way of growing up, Holland's direction diverged and he became a singer-songwriter. Then in 2001, he was performing in a benefit that also featured Stephen Schwartz. "I did one of my songs and he came up to me and he said 'I love that song. Who are you and how come I don't know you? What have you been doing?' And I said, 'Getting ready.'"
Later Holland started writing musicals that were mounted in musical festivals in the city. Stephen Schwartz attended several readings. "Then three years ago when they were going to do the Broadway production, Stephen sent me an email and said, 'I hope you don't mind but I've submitted your name as a possible orchestrator for the Broadway production.'
Danny Goldstein's team made the final decision to hire Michael Holland for that production that later fell through, and for the current revival.
When we hear the sound of this album, we are hearing many influences: Stephen Schwartz's Peggy Gordon's, and Michael Holland's. He grew up loving Broadway, loving the 60s singer-songwriters like Joni Mitchell, James Taylor, and John Denver, and then he kept listening to pop music over the decades. He took it all in. "Everything I listen to influences me whether I like it or not. It sounds precious, but I've always been a musical sponge. I take songs apart. I want to know what's going on. How are they making this work?"
And that's how he makes his music work.
Essential Reading for Godspell Fans
The Godspell Experience: Inside a Transformative Musical includes the whole story of the making of the show, song-by-song sections, and much more.
Songs on the Godspell New Broadway Cast Album
The complete listing for the New Broadway Cast Recording of Godspell, and who sings them:

1. Tower of Babble -- Company
2. Prepare Ye -- Wallace Smith and Company
3. Save the People -- Hunter Parrish and Company
4. Day by Day -- Anna Maria Perez de Tagle and Company
5. Learn Your Lessons Well -- Celisse Henderson and Company
6. Bless the Lord -- Lindsay Mendez and Company
7. All for the Best -- Hunter Parrish, Wallace Smith and Company
8. All Good Gifts -- Telly Leung and Company
9. Light of the World -- George Salazar and Company
10. Turn Back, O Man -- Morgan James and Company
11. Alas for You -- Hunter Parrish
12. By My Side -- Uzo Aduba and Company
13. We Beseech Thee -- Nick Blaemire and Company
14. Beautiful City -- Hunter Parrish
15. On the Willows -- Wallace Smith and the Band
16. Finale -- Hunter Parrish and Company
Bonus Tracks:
Beautiful City -- Performed by John Ondrasik of Five for Fighting
Learn Your Lessons Well (After Hours) -- Performed by Telly Leung, Lindsay Mendez and Wallace Smith
Michael Holand Bio
MICHAEL HOLLAND (Orchestrator). Composer/lyricist: Hurricane (NYMF 2009; in development); Believe in Me…a Bigfoot Musical (fringeNYC 2004); Live! Under Broadway (fringeNYC 2007); Times Square Centennial Celebration (BC/EFA and Times Sq. Assoc., 2006); Mikey Writes It! (2002 MAC Award, Best Revue). Incidental music: Alley Theatre, Old Globe, Playwrights Horizons, Dallas Theater Center, CO Shakespeare, Juilliard, NYU Tisch. Recordings: The Maury Yeston Songbook (PS Classics), four solo CDs. Performer/musical director of multi-award winning NYC cabaret duo Gashole! since 2001.
Bios for other musicians
CHARLIE ALTERMAN (Music Director/Conductor). Broadway credits include Next to Normal (Music Director), Martin Short: Fame Becomes Me (Music Director/Actor) and Legally Blonde (Associate Conductor). Tours: Next to Normal (Music Supervisor) and Grease (U.S./Asia). Off-Broadway favorites: Almost Heaven and Silence: The Musical! Regional: La Jolla Playhouse, Arena, Trinity Rep., Huntington, St. Louis MUNY and nine seasons with the Williamstown Theatre Festival. Concert appearances include shows with Brooke Shields, Frankie Avalon, Emily Skinner, Dana Reeve, Billy Porter, Carol Woods and Ken Page.
JOHN MILLER (Music Coordinator). Recent: Follies, Jersey Boys, Priscilla, Sister Act, Baby It's You!, Catch Me If You Can, Rock of Ages, La Cage aux Folles, Hairspray. Musician (bass): Eric Clapton, Frank Sinatra, Aerosmith. His album Stage Door Johnny – John Miller: Takes on Broadway is available on PS Classics Records. www.johnmillerbass.com
Bios for the director and choreographer mentioned here
DANIEL GOLDSTEIN (Director) is making his Broadway debut. As a writer, his musical Unknown Soldier (written with Michael Friedman) was developed this summer at the O'Neill National Musical Theater Conference. Recent credits include Kerrigan & Lowdermilk's The Unauthorized Autobiography of Samantha Brown (Goodspeed Musicals), Ethan Sandler's Artificial Fellow Traveler, Golden Boy (Juilliard), A New Brain (Toho Theater, Tokyo), Lower Ninth (Flea Theater), Mary's Wedding (Two River Theater), Miss Margarida's Way (Bay Street). Off- Broadway: Indoor/Outdoor (DR2) and Walmartopia (Minetta Lane), But I'm a Cheerleader (NYMF). Regional: Falsettos, Les Liaisons Dangereuses and The Cry of the Reed (Huntington), True West and 'Tis Pity She's a Whore (Williamstown); The Servant of Two Masters (Pittsburgh Public); Annie (MUNY). He served as the associate director for All Shook Up and Fully Committed and was the resident director for the first national tour of Mamma Mia! He is a graduate of Northwestern University with a degree in performance studies. For Melissa and Gracie.
CHRISTOPHER GATTELLI (Choreographer) most recently choreographed the world premiere of Newsies at Paper Mill Playhouse. Broadway: South Pacific (Tony, Outer Critics Circle nominations), Women on the Verge of a Nervous Breakdown, Sunday in the Park With George, The Ritz, 13 the Musical, Martin Short: Fame Becomes Me, High Fidelity. West End: Sunday in the Park With George, South Pacific. Off-Broadway: Altar Boyz (Lucille Lortel Award, Callaway Award, Drama Desk nomination); Bat Boy: The Musical (Lucille Lortel Award); tick,tick…BOOM!; 10 Million Miles; Adrift in Macao. Other favorites: Chess with Josh Groban. TV: "The Rosie O'Donnell Show," Tony Awards 2000. As director: Silence! The Musical at Theater 80 (Best Overall Musical Fringe '05); the world premiere of Jim Henson's first Muppet musical, Emmet Otter's Jug-Band Christmas, and the world premiere of Radio Girl, both at Goodspeed Opera House; Departure Lounge at the Public for SPF. Upcoming: the first Broadway revival of Funny Girl.