For Your Godspell Productions
Notes For Performers and Directors
Licensing -- Books -- Magic props -- Costumes -- Karaoke -- FAQs - Answers to frequently asked questions
See also the full Godspell page for sheet music, CDs, etc.
Licensing Godspell for performance - 2 agencies
For the rights to perform Godspell in your school, church, theatre group, or other setting, contact one of these two agencies. For a licensing fee, they will provide the script, score, and support materials.
1) Music Theatre International Godspell Licensing
Not only does Godspell have two licensing agencies, but MTI has two separate versions of the show — the traditional and the 2012 revised version that was recently performed on Broadway. Each has its own script. Visit the MTI website for a detailed description and ordering information for your Godspell production.
Traditional Godspell at MTIshows.com (link opens a new browser window) -
OR Revised Godspell with new orchestrations used for the Broadway revival of 2011-2012
MTI provides supportive resource materials for Godspell that include "RehearScore" - propriety sequencing software for Windows and Mac that supports the rehearsal process with show music. It allows a music director to point-and-click to transpose keys, conduct dance or choral rehearsals at varying tempos and parts, separate parts for rehearsal in Karaoke style, and more. MTI also makes available a stage manager's script that can be personalized with your own production notes even though it is part of the rented materials, and "transpositions on demand" for adjusting the music to virtually any key resulting in an easy-to-read computer print out.
2) Theatre Maximus Godspell Licensing
Theatre Maximus has licensed Godspell since 1972. They send out the materials three months in advance and do not require a deposit. The package includes 12 libretti with chorus, bass drum and quitar, 2 piano scores, production book, beautiful city, and the permission to use the original Godspell logo. They also license the Spanish version of the Godspell script.
Theatre Maximus, 1650 Broadway Suite 601, New York, NY 10019, 212-765-5913. Theatre Maximus (link opens a new browser window). Contact them for details on their offering in English and Spanish.
Books with Godspell chapters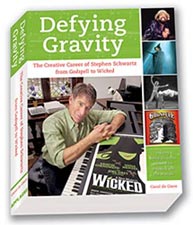 Defying Gravity: The Creative Career of Stephen Schwartz, from Godspell to Wicked is the best behind-the-scenes resource for Godspell. It offers Schwartz's perspective and never-before-told stories from original cast members. Info on Defying Gravity - Schwartz biography that includes the making of Godspell
Peter Filichia's Let's Put on a Musical includes Godspell Let's Put on a Musical: How to Choose the Right Show for Your Theater, Revised & Expanded Edition
as does his latest book Broadway Musicals: The Biggest Hit and the Biggest Flop of the Season - 1959 to 2009
Godspell is among the 150 musicals covered in Little Musicals for Little Theatres
Check out Scott Miller's book on musicals. It has a chapter on Godspell and one on Pippin. From Assassins to West Side Story : The Director's Guide to Musical Theatre
Inspired answers to some of the questions in the Music Theatre International Study Guide for Godspell
Magic props for Godspell such as the "All for the Best" appearing cane
Stephen Nathan, who played Jesus in the original New York production of Godspell at Cherry Lane, had been a fan of magic for many years. He knew that a few magic tricks could make a show seem more entertaining. He brought in props from his own collection, and many of them are suggested in the script.
Godspell props: Appearing flowers, Color changing scarves, Appearing Cane, Streamers
Appearing Bouquet MAGIC APPEARING BOUQUET
or APPEARING FLOWER MAGIC TRICK
sometimes used by the actor playing Jesus after speaking the lines: "Consider the lilies of the field. They don't work, they don't spin, and yet I tell you, Solomon in all his splendor was not attired like one of these."

Magic Color-Changing Hanky - Easy Magic Trick with Silks
Actors playing Jesus sometimes use this during the phrase "…don't let your right hand know…what your left hand is doing."

Get ready for "All for the Best" soft-shoe dance. Find "Appearing Cane" or other illisions on Amazon.com: Appearing Cane
In productions of Godspell, Jesus and Judas often use the magic trick of the appearing cane and then dance with the cane in the part of the song. You can see an example of this on a Youtube version of the song sun by original cast members Stephen Nathan and David Haskell about 20 or 30 years after their first performance. All for the Best - Opens in a new browser window
Colored streamers for "Bless the Lord" Ribbon Wand Set, 3 Feet to 6 feet
In the original production of Godspell, JOANNE sang from a platform as the other cast members picked up long ribbon streamers and began to twirl them, rhythmic gymnastics style. At the end the streamers were tossed into the air.
Costumes for Godspell


In the original production, the actor playing Jesus wore a Superman tshirt such as like this one: SUPERMAN "CLASSIC SHIELD" Long Sleeves Royal Blue Licensed Tee
and rainbow suspenders Contractor Series 2" Wide Colorful Suspenders (Rainbow)
"...The point of the costumes in GODSPELL, whatever their style, should be that these eight people are replacing their daily clothes with something hastily put together which sets them apart from society and becomes an outward manifestation of their decision to follow the Jesus character. In the original production, the characters were never intended to be hippies, but rather to have chosen to put on bright, more colorful and slapdash raiment to match the sort of "contemporary clown" look that Jesus had....." -- Stephen Schwartz notes from his discussion forum.
Special Instruments for Godspell
Shofar - The Shofar is blown at the introduction to "Prepare ye the Way of the Lord." The shofar was traditionally used to announce holidays and at other times. Ram Horn Shofar
Slide Whistle and Kazoo Grover-Trophy Slide Whistle
and Grover-Trophy Metal Kazoo.
These playful instruments are sometimes used by actors or the band.
Karaoke CDs: Practice with Godspell Karaoke - background music for performers.

Sing The Broadway Musical Godspell (2-Disc Karaoke CDG)
- This is probably the fanciest version. Practice with Godspell Karaoke - background music for performers. Here is the company's blurb about it: "Our accompaniment/karaoke CD of songs from Godspell features 32 tracks. Tracks 1-16 contain the background tracks and guide vocals; tracks 17-32 contain the accompaniment tracks alone. This album is a re-recording in the original show key and show tempo."
The Broadway Box- 80 Songs From 51 Shows. Here's a 5-CDG box set that contains 80 classic songs. Includes songs from Pippin and Godspell - 51 top shows in all. Great gift item
Gifts and Games Ideas for Godspell Casts, Directors...
1) Autographed copies of "Defying Gravity," the Stephen Schwartz biography, signed by Stephen Schwartz. Defying Gravity - Schwartz biography signed copies
2) Now there's a board game for theatre geeks.
Auditioning for Godspell
Auditioning for GODSPELL?
See Vocal Ranges info below and
See Godspell cast as characters for a description of each part, taken from the director's notes.
Current Productions of Godspell - Show Schedule
Yes, Godspell is on DVD as a movie but the movie has a whole different feel than the stage production. So you want to see it LIVE. Check two places: One is on the Godspell pages at MTI. Look for the blue tab that says "Upcoming" - click on that to find dozens of productions. Another licensing agency also has productions, and those will be listed on StephenSchwartz.com's show schedule.
Frequently Asked Questions on Godspell
Vocal Ranges for Godspell roles
According to the frequently asked questions post on Musicals.net Godspell forum they are as follows:
What are the singing ranges of the characters?
Jesus - Tenor High G#
Judas/John - Baritone E
Lamar - Tenor High A
Jeffrey - Tenor High D (falsetto)
Herb - Baritone E (does not sing any real solo, but should be able to carry baritone
harmonies)
Robin - Alto
Peggy - Alto
Sonia - Low Alto (D below middle C)
Gilmer - Mezzo
Joanne - Soprano (High A in "Bless the Lord", High C in "We Beseech Thee")
WHO SINGS WHAT - The whole troupe joins in for most songs, but lead singers as as follows:
Prologue/Tower of Babel: All
Prepare Ye: John the Baptist
God Save the People: Jesus
Day By Day: Robin
Learn Your Lessons Well: Gilmer
O bless the Lord: Joanne
All for the Best: Jesus/Judas
All Good Gifts: Lamar
Light of the World: Herb, Peggy, Jeffrey, Robin/All
Turn Back, O Man: Sonia
Alas for You: Jesus
By My Side: Peggy
We Beseech Thee: Jeffrey
On the Willows: Band
Finale: Jesus
Long Live God: All
Visit www.musicalsingers.com for musical theatre audition tips, vocal ranges, vocal technique, etc (opens new browser window).
Visit the Frequently Asked Questions page on Stephen Schwartz's official site. He answers these questions:
May we use the new GODSPELL Orchestrations for our production? (from Godspell 2000 or the 2001 tour) - Yes. Read about Alex's for the 2001 tour. Alex Lacamoire: Godspell 2001 tour orchestrations and arrangements
May we use the song Beautiful City in our production of GODSPELL?
Where can we use Beautiful City in our production of GODSPELL?
Do we have to dress like hippies in our production of GODSPELL?
Has the Prologue been cut from GODSPELL?
Why are you credited for writing "new" lyrics for GODSPELL?
Schwartz FAQs . Also see the Godspell forum archives PDF file for Godspell Directors. The Godspell files in the archives also answer questions like How much of the script can you change? www.stephenschwartz.com/forum/the-forum-archive/
LOGO AND SHOW DESCRIPTION NOTE:(From Music Theatre International's description. Logo and description used with permission. Copyright by Music Theatre International. All rights reserved. MTIShows.com)