John Michael Tebelak
Godspell was conceived and directed by John Michael Tebelak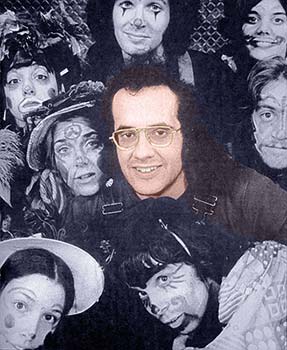 This photo of John-Michael Tebelak with the Off-Broadway Godspell cast was used in a souvenir book in 1971. (color added)
John-Michael Tebelak bio
September 17, 1949—April 2, 1985
John-Michael Tebelak was 22 years old when Godspell hit New York. It was his first brush with the New York theatre, but by no means his first venture into theatrics. His theatrical career started when he "walked into a theatre at the age of nine and stayed there."
Mr. Tebelak originally conceived of Godspell as his Master's Thesis project at Carnegie-Mellon University in 1970. All of the original cast members contributed to the playful script that evolved under John-Michael's direction. Subsequently, he directed productions of Godspell at La MaMa Theatre in February of 1971, the Cherry Lane Theatre (opening May 17, 1971), the Promenade Theatre, and on Broadway.
Tebelak co-authored the screenplay for Godspell (1973) for Columbia Pictures with David Greene. Mr. Tebelak was dramaturge for the Cathedral Church of St. John the Divine in New York City, and wrote and staged liturgical drama there. He died of a heart attack at the age of 36 in April 1985.
Tebelak - Story of Godspell's conception
Excerpt from interview in Dramatics Magazine, January 1975:
...Finally, I turned toward the Gospels and sat one afternoon and read the whole thing through. Afterwards, I became terribly excited be cause I found what I wanted to portray on stage.
BARKER: Which was…
TEBELAK: Joy! I found a great joy, a simplicity—some rather comforting words in the Gospel itself—in these four books. I began immediately to adapt it. I decided to go to Easter sunrise service to experience, again, the story that I had gotten from the Gospel. As I went, it began to snow which is rather strange for Easter. When I went into the cathedral, everyone there was sitting, grumbling about the snow, and the fact that they had already changed their tires. They weren't going to be able to take pictures that afternoon. Snow was upsetting their plans. As the service began, I thought it might be a little different. Instead, an old priest came out and mumbled into a microphone, and people mumbled things back, and then everyone got up and left. Instead of "healing" the burden, or resurrecting the Christ, it seems those people had pushed Him back into the tomb. They had refused to let Him come out that day.
As I was leaving the church, a policeman who had been sitting two pews ahead of me during the service, stopped me and wanted to know if he could search me. Apparently he had thought I was ducking into the church to escape the snowstorm. At that moment—I think because of the absurd situation—it angered me so much that I went home and realized what I wanted to do with the Gospels: I wanted to make it the simple, joyful message that I felt the first time I read them and recreate the sense of community, which I did not share when I went to that service. I went to my teachers at Carnegie and asked if I could work at my own special project for my masters' degree, and they agreed. That following fall, in October, we began rehearsals at Carnegie.
More Godspell History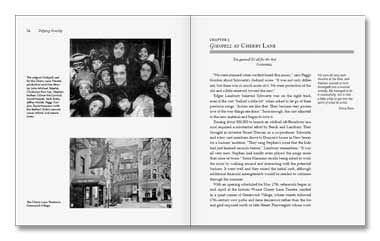 For photos of John-Michael Tebelak, and details of Godspell history, refer to the Stephen Schwartz biography Defying Gravity: The Creative Career of Stephen Schwartz, from Godspell to Wicked. www.defyinggravitythebook.com/
Pictured to the left is a page spread from Defying Gravity, showing a photo of the Godspell cast gathering around John-Michael Tebelak (center), and a photo fo Cherry Lane Theatre.
The book includes comments about Tebelak from his former CMU professor and friend Leon Katz, who said, among other things, "John-Michael was truly religious. But he was also of the 1960s. So the two things were there in an odd combination."
Godspell's first production - Godspell's first production at Carnegie Mellon University
Godspell - Peggy Gordon and "By My Side" Peggy Gordon comments on "By My Side" and early Godspells.