The Baker's Wife
Synopsis with photos from The Paper Mill Playhouse production
April 13 - May 15, 2005, Millburn, New Jersey.
Photos by Jerry Dalia.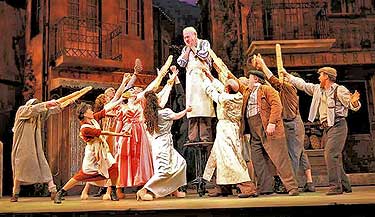 Villagers are deliriously joyful when their new baker cooks up his first batch of fresh warm bread.
Photo: Lenny Wolpe as Aimable the baker (center) with villagers holding bread, singing Schwartz's choral number "Bread" - Paper Mill Playhouse production.
Directed by Gordon Greenberg, with choreography by Christopher Gattelli, the cast starred Alice Ripley as Genevieve, Max von Essen as Dominique, Lenny Wolpe as Amiable the baker and featured Gay Marshall (Denise) and Richard Pruitt (Claude).
The Baker's Wife with music and lyrics by Stephen Schwartz and book by Joseph Stein is licensed by Music Theatre International MTIShows.com
About The Baker's Wife
This musical was adapted by Stephen Schwartz and Joseph Stein from the film La Femme de Boulanger by Marcel Pagnol and Jean Giono.

The Baker's Wife - black and white movie (not a musical) In French with English subtitles.)
The endearing but contentious inhabitants of a rural village in Provence, France have been without a baker for seven weeks. Aimable the baker arrives with his young wife Genevieve and everything seems delicious again - until a young, strapping local handyman seduces Genevieve away from her older husband. Aimable crumbles - and so does his bread making abilities. Driven to distraction by breadlessness, the villagers lure Genevieve back.
When skilled actors play Aimable and Genevieve, the audience is sure to feel the power of their emotional tension and the meaningfulness of their eventual reconciliation.
The exemplary production of The Baker's Wife at the Paper Mill Playhouse was videotaped for the research archive of the New York Public Library for the Performing Arts at Lincoln Center. Directors and others working on productions of the show may view it there.
Hear song clips from The Baker's Wife

[Original 1990 London Cast], Jay Records UK, 1999 The Baker's Wife [new browser window] at Amazon.com
Act I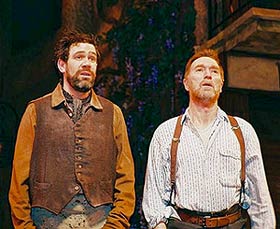 The Baker's Wife is set in 1935 in Southern France in a rural village peopled by folksy characters, each with their own quirks. Antoine, the town drunkard and Barneby, whose male chauvinistic behavior repels his wife, are among the locals (photo with actors Kevin DeL Aguila and Michael Medeiros).
---
Act I opens, Denise, the co-owner of the cafe, sings "Chanson" which then serves as a musical thread for the entire show. She sings about seeing the same faces filling the cafe everyday. "And then someday, suddenly, something can happen..." [lyrics to "Chanson"]
---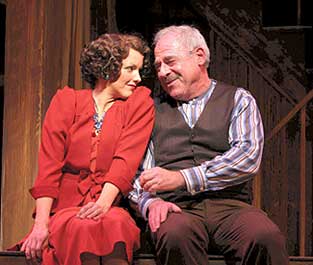 When the lovely Genevieve Alice Ripley and the baker Aimable (Lenny Wolpe) arrive, all seems both hopeful in terms of the couple's contribution to cuisine. But the gossiping villagers have their doubts about what will happen.
---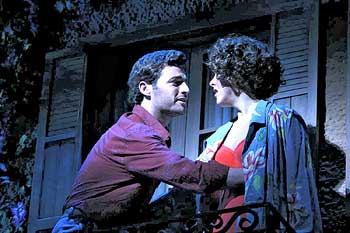 The Marquis' assistant Dominique (Max Von Essen) is on the prowl and immediately decides Genevieve (Ripley) is for him. He sings the rousing "Proud Lady" to prove it.
One night he serenades her while thanking the baker for bringing his "treasures to town." He invites her to run off with him that night.
---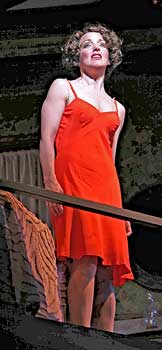 Genevieve debates with herself in the song "Meadowlark."
...WHO DOES HE THINK HE IS?
WHO COULD BE AS HANDSOME
WHO COULD BE AS SMART AS HE THINKS HE IS?
HE JUST HAS TO SNAP HIS FINGERS
WOMEN FALL APART!
WHAT DOES HE THINK
THAT I'LL SLINK AWAY WITH HIM?
THAT I'LL FOLLOW HIM RIPE AND DROOLING?
WHO DOES HE THINK HE IS?
AND WHAT DOES HE THINK I AM?
AND WHO DO I THINK ...
(sighs)
I'M FOOLING?.... [Full lyrics]
---
The two young lovers run off, as described in the final lyrics of her song:
FLY AWAY, MEADOWLARK
FLY AWAY IN THE SILVER MORNING,
IF I STAY, I'LL GROW TO CURSE THE DARK
SO IT'S OFF WHERE THE DAYS WON'T BIND ME
I KNOW I LEAVE WOUNDS BEHIND ME
BUT I WON'T LET TOMORROW FIND ME
BACK THIS WAY
BEFORE MY PAST ONCE AGAIN CAN BLIND ME
FLY AWAY ...
AND WE WON'T WAIT
TO SAY GOOD-BYE
MY BEAUTIFUL YOUNG MAN
AND I.
---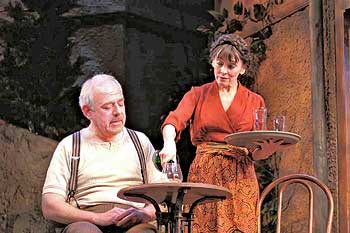 Aimable decides to take up drinking. (Lenny Wolpe pictured here with Gay Marshall as Denise)
Act II
Villagers attempt to cheer Aimable as they sing "The World's Luckiest Man/Feminine Companionship."
When Aimable refuses to bake, the villagers must rally for wife retrieval. Long-standing fights between them are set aside. While the men are off, the women sing "Romance."
As the heat wears off the instant romance between Genevieve and Dominique, Genevieve begins to long for her home by the oven and her steady, lovingly warm husband. She sings "Where is the Warmth?"
By the end of the show, the audience has watched every character has transformed in some way. As the cast completes the show in a sweet and cheery reprise of "Chanson," the audience can agree with them that in some way, "Now your whole life is new."
(more photos forthcoming)
Return to the main The Baker's Wife page
About Paper Mill Playhouse
Since opening in 1938, the Paper Mill Playhouse has become a nationally recognized not-for-profit professional arts center committed to excellence and to preserving the rich heritage of plays and musicals through productions of the highest quality. Visit the website at http://www.papermill.org
Music CDs
The Baker's Wife

[Original 1990 London Cast], Jay Records UK, 1999 Buy The Baker's Wife [new browser window]



Includes: Chanson, If It Wasn't For You, Merci Madame, Scene, Bread, Gifts of Love, Plain and Simple, Proud Lady, Look for the Woman, Serenade, Meadowlark, Buzz-a-Buzz, Opening, Any-Day-Now-Day, Endless Delights, The Luckiest Man in the World, Feminine Companionship, If I have to Live Alone, Romance, Where is the Warmth?, Scene Pompom's Return, Finale
The Baker's Wife

[Original 1976 Broadway Cast], Take Home Tunes, 1997 The Baker's Wife [Original Soundtrack] [new browser window]

Includes: Chanson, Merci Madame, Gifts of Love, Proud Lady, Serenade, Meadowlark, Any-Day-Now-Day, Endless Delights, If I have to Live Alone, Where is the Warmth?, Finale
Return to the main
The Baker's Wife
page