Stephen Schwartz's waitress song "It's An Art" from Working
Stephen Schwartz Lyrics and Behind-the-Scenes story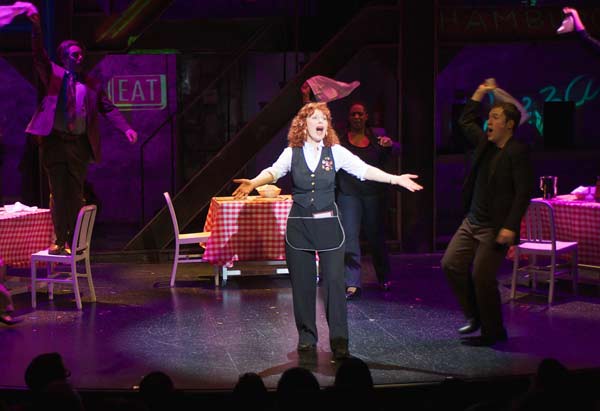 "It's An Art"
Barbara Robertson in "Working," the 2011 revival in Chicago [Photo © Amy Boyle Photography 2011]
About "It's An Art" by Stephen Schwartz
Based on Studs Terkel's interviews with Dolores Dante
Notes from Schwartz biographer Carol de Giere
Of all the waitresses in Chicago, interviewer Studs Terkel discovered Dolores Dante, who had worked at the same restaurant for twenty-three years. "To be a waitress, it's an art," Dante told Terkel. To Stephen Schwartz, her words leapt off the page as being suited to song. At his piano, he worked on music and lyrics for a piece based on her interview. He'd call it, "It's An Art."
"I feel like a ballerina," Dante continued. "I have to go between those tables, between those chairs…. If I drop a fork, there is a certain way I pick it up. I know they can see how delicately I pick it up. I'm on stage."
.... Read more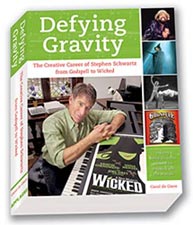 in Defying Gravity: The Creative Career of Stephen Schwartz, from Godspell to Wicked
Author Carol de Giere includes more details from her interviews with Stephen Schwartz and his collaborators about how "It's An Art" and other songs from Working emerged.
ALSO
see Terkel chapter in Footwork section of Book Five: Dolores Dante.
Lyrics for "It's An Art" the waitress song from Working
THERE'S SOME AS DON'T CARE
WHEN THEY PUT DOWN THE PLATE, THERE'S A SOUND
NOT WITH ME
WHEN THEY MOVE A CHAIR
IT WILL SCRAPE WITH A GRATE ON THE GROUND
NOT WITH ME
I WILL HAVE MY HAND RIGHT WHEN I PLACE A GLASS
NOTICE HOW I STAND RIGHT AS CUSTOMERS PASS
SERVE A DEMI-TASSE WITH A GESTURE SO GENTLE
OR DO IT AGAIN TILL
IT'S NEAR ORIENTAL ...
(SHE hums a snatch of "Un Bel Di" from "Madame Butterfly")
IT'S AN ART, IT'S AN ART
TO BE A FINE WAITRESS
TO SEE THAT YOU PLEASURE EACH GUEST
THERE'S A TWIST TO MY WRIST
WHEN I BRING YOUR STEAK IN
AND WATCH HOW I TAKE IN
YOUR LIVER AND BACON
IT ALL WILL BE STYLISH AND SMART
THAT'S WHAT MAKES IT AN ART ...
I REMEMBER ONE DAY
AS I DO NOW AND THEN, I HAD SHAKES
AND DOWN I WENT
THERE WITH MY TRAY
FULL OF COFFEES AND CORDIALS AND CAKES
DOWN I WENT
BUT I KEPT MY POISE -- NOT ONE GUEST HEARD ME FALL
NEVER MADE A NOISE, NOT ONE NOISE, FOOD AND ALL
IF YOU HAVE TO CRAWL, YOU GIVE 'EM WHAT THEY LIKE
YOU CARRY YOUR TRAY LIKE
IT'S ALMOST BALLET-LIKE
(SHE hums a snatch of "Swan Lake" )
IT'S AN ART, IT'S AN ART
TO BE A FINE WAITRESS
EACH EVENING I TREASURE THE TEST
LIKE TONIGHT WAS A FIGHT
'CAUSE THEY HIRED THIS BUSBOY
THIS CLOTHES-ALL-A-MUSS-BOY
AND GUESTS HEARD HIM CUSS -- BOY,
DID WE HAVE A QUICK "HEART-TO-HEART"!
EVEN THAT WAS AN ART ...
TIPS! HA!
TIPS ARE IMPORTANT TO PEOPLE LIKE CAPTAINS AND BARMEN
FOR THEM, IT'S A TIP, SEE?
FOR ME, I'M A GYPSY
JUST TOSS ME A COIN AND I SUDDENLY FEEL LIKE I'M
CARMEN!
SO ON THROUGH THE ULCER
THE BACKACHE, THE HOT SWEATY FEET
ON YOU GO
THROUGH IS YOUR KNIFE DULL SIR?
AND MADAM WANTS WHAT WITH HER MEAT?
ON YOU GO
TWO A.M. APPROACHES, THE CURTAINS DESCEND
THERE AMONG THE ROACHES, MY ACT'S AT AN END
EVERY NIGHT I TEND TO FIND MYSELF CRYING
THERE'S NO WORK SO TRYING
OR SO SATISFYING ...
I tell everyone I'm a waitress and I'm proud. When somebody says to me, "Hey, you're terrific! How come you're just a waitress?", know what I say to them? I say, "Why? Don't you think you deserve to be served by me?"
.
IT'S AN ART
IT'S AN ART
TO BE A GREAT WAITRESS
TO DO WITHOUT LEISURE OR REST
SO I ZOOM
THROUGH THE ROOM
WITH A FLAIR NO ONE ELSE HAS
AN AIR NO ONE ELSE HAS
I SWEAR NO ONE ELSE HAS
MY LILT
WHEN I SAY
A LA CARTE...
YOU CAN SEE IT GIVES ME A GLOW
EVERY TIME I PROVE
I'M A PRO
MAYBE I'M NOT QUITE
MICHELANGELO ...
BUT I'M NOT JUST A WAITRESS
I'M A ONE-WOMAN
SHOW
LET'S
GO!
Back to the main page for Working the musical