Studs Terkel
Author of Working, and many other books.
Working-related publications
Studs Terkel bio
Studs Terkel (1912-2008), prize-winning author and radio broadcast personality, was a graduate of University of Chicago law school. Rather than use his law degree, but rather found his way into a radio career. In 1944, he landed his own show on WENR. This was called the Wax Museum show that allowed him to express his own personality and play recordings he liked from folk music, opera, jazz, or blues. Later he had his own television show called Stud's Place and started asking people the kind of questions that marked his work as an interviewer....His book Working is part of a succession of oral history books. Terkel continues to interview people, work on his books, and make public appearances.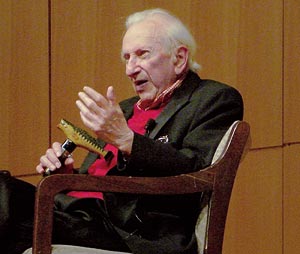 In 1974, Stephen Schwartz flew to Chicago to ask Mr. Terkel to grant him stage rights for making Working the musical.
From the webmasters Carol and Terry de Giere: At age 94, Studs Terkel came to New York on a book tour and gave a talk at the CUNY Graduate Center. His bright red sweater and red socks represented his cheery spirit. He kept the audience smiling with his nearly-non stop talk about how much of a talker he is, and other subjects. What's on the cane that he is holding? A painted wooden fish head. Photo by Terry de Giere.
Other Studs Terkel Writings
Working DVD

Working

Broadway Archives created a DVD from the tape from American Playhouse, WNET and KCET, 1982
Buy Studs Terkel's Working (Broadway Theatre... [new browser window]
Studs Terkel introduces the musical in the fashion of someone introducing a made-for-TV documentary. This version was adapted for television and does not include the Broadway staging. However it is the only video recording available for the musical.
Studs Terkel Recordings
Voices of Our Time : Five Decades of Studs Terkel Interviews [ABRIDGED] (Audio CD)
An abridged version of the original taped interviews made by Terkel in preparing his various books. Includes an interview with Leonard Bernstein and many others.
Studs Terkel Resources for mor einformation.
http://www.studsterkel.org/- an official site for all things Studs Terkel.
Comparison of Terkel's Working to the Musical Working - Check here for details about the musical and how it compares with the Terkel's book.