Godspell Original Cast
Where are they now? CD, bios, etc.
Peggy, Robin, Sonia, Gilmer, David, Stephen, Jeffrey, Lamar, Herbie, Joanne...
Godspell original cast and creative team
About the original cast members; Where are they now?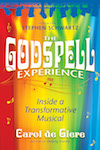 The book The Godspell Experience: Inside a Transformative Musical tells the whole story of how each actor joined the Godspell cast, plus a full 384-pages of rich stories about the musical as it made its way into musical theater history. It also includes a chapter on the movie version of Godspell and the Broadway revival. READ ABOUT The Godspell Experience
Creative team: Read about Stephen Schwartz the composer. | Read about John-Michael Tebelak who conceived and directed the show.
Godspell Film cast members:
Victor Garber has an active film, TV, and stage career. e.g. Titanic and many other movies and CDs.
Katie Hanley lives in Illinois and is an artist.
Lynne Thigpen (December 22, 1948 – March 12, 2003)
Lynne Thigpen left a graduate school program in theatre and dance at University of Illinois in 1971 to start her career in New York City. Her very first audition was for the Off-Broadway production of Godspell at the Cherry Lane Theatre. She got the part and quickly became a star. She performed in the Stephen Schwartz musical in New York, Los Angeles, and Washington, D.C, and made her film debut in the Godspell movie in 1974.
Ms. Thigpen continued in Schwartz musicals on Broadway with The Magic Show and Working. She later collected a Tony Award nomination as Best Featured Actress (Musical) in 1981 for Tintypes, and won a Tony Award for Best Actress in a Play as the black and Jewish best friend to the title character in An American Daughter (1997).
Jerry Sroka continued in fim and television, specializing in voice talent. Jerry Sroka IMDB
Merrell Jackson (1952–1991) appeared in the Godspell movie and later joined one of the stage companies.
See notes for Robin Lamont, Joanne Joanas, David Haskell, Jeffrey Mylett, and Gilmer McCormick iin The Godspell Experience.
Godspell Movie
Godspell - Columbia Tristar Buy Godspell DVD [new browser window]
Godspell Movie - Notes
Film locations: (In approximate order of appearance)
Bethesda Fountain in Central Park, Junkyard on Ward's Island, various modern building scenes and parks, Washington Square Park (The Good Samaritan scene), Lincoln Center (Lazarus), Bandshell at Lincoln Center...
"All For the Best" - Pentouse Garden, Accutron sign, Pan-Am rooftop, top of the World Trade Center
Fordham University Plaza (Manhattan campus), Old vaudeville-movie house, Tugboat by Statue of Liberty, Tugboat pier, junkyard at Ward's Island, under Triboro bridge, city streets.