Godspell Original Cast
Where are they now? CD, bios, etc.
Peggy, Robin, Sonia, Gilmer, David, Stephen, Jeffrey, Lamar, Herbie, Joanne...
Godspell Original Cast Album
Godspell

Original Cast Recording, Arista, 1973. Available from Amazon.com and other sources. Buy Godspell [new browser window]



Includes: Prepare Ye the Way of the Lord, Save the People, Day by Day, Learn Your Lessons Well, Bless the Lord, All for the Best, All Good Gifts, Light of the World, Turn Back O Man, Alas for You, By My Side, We Beseech Thee, On the Willows, Finale, Day by Day (Reprise)
Godspell original cast and creative team
About the original cast members; Where are they now?
Creative team: Read about Stephen Schwartz the composer. | Read about John-Michael Tebelak who conceived and directed the show.

Cast:
Gilmer McCormick is married to Godspell's music director, Stephen Reinhardt. They lived in Los Angeles for many years before moving to Kentucky.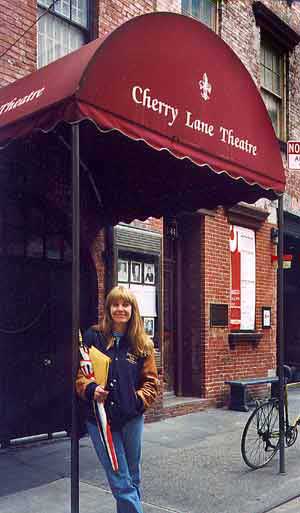 Photo - Gilmer revisits Cherry Lane Theatre where Godspell opened in 1971. Photo by Carol de Giere, 2003.
Gilmer's classmates at Carnegie Mellon University in the 1960's noticed her skill as a comedienne. She joined the orginal Godspell cast in New York and can be seen in the film. She has worked in film and stage, and raised two children.
Peggy Gordon, the original "Peggy" clown in Godspell, is a writer in New York. She originally wrote the music for "By My Side" while attending Carnegie Mellon University. Peggy Gordon

Robin Lamont is married and lives in Westchester County, New York. She worked as a district attorney for many years and is now writing mystery novels. Her first published novel If Thy Right Hand by Robin Lamont
has won several awards. Her latest project is a series of books in support of the wellbeing of animals. The Chain (The Kinship Series) (Volume 1)
Robin played in the original stage cast and film of Godspell, as well as in the Broadway cast. Continuing with Stephen Schwartz musicals, she performed in Working, and sings James Taylor's song "Mill Worker" on the cast album with her folk-singer tone that is perfect for the piece. Hear Robin on the Working cast album

NEW: Working is available for download at Amazon - mp3 Working Original Broadway Cast
in iTunes WORKING THE MUSICAL ALBUM
Robin Lamont is the only living Godspell cast member who performed in every version of Godspell, starting with the stage show at Carnegie Mellon University in 1970, Cafe La MaMa in early 1971, the original off-Broadway cast, the movie, and the Broadway production.
Joanne Jonas is married and works for Heartmath, a company that offers stress-reduction programs. She has a grown son. Stephen Schwartz invited her to audition for Godspell, having worked with her in summer stock several years earlier.
Herbie Braha attended Carnegie Mellon University drama school, and was friends with John-Michael Tebelak, who invited him to perform in Godspell. Herb runs a business in California that supplies fabric for movie and stage costumes.
Sonia Manzano has worked for Sesame Street since about 1972 as a performer and then an emmy award-winning writer. She is also the author of children's books and a play. www.soniamanzano.com/
Stephen Nathan launched his career with Godspell on stage but quickly moved into film and television. For example, he can be seen in the film of the musical 1776. He is a writer in California. See his long list of credits at IMDB including executive producer of the popular TV series Bones.
Jeff Mylett (1949–1986) originated the "Jeffrey" role in the original cast of Godspell and later understudied the role of Doug Henning in the Magic Show, eventually taking over for Doug. He died of AIDS. Jeff Mylett data at IBDB.com | For movies: Jeff Mylett at IMDB
David Haskell (1948 - 2000) - Godspell was David Haskell's big break. He made it into the film cast and then launched a career in television and film. Internet movie database on David Haskell. David died August 30th, 2000, of brain cancer. Fellow Godspellians gathered around him for his last days.
Lamar Alford (Oct. 11, 1944 - March 29, 1991) came into Godspell for the Cherry Lane production, and was one of two cast members who did not attend Carnegie Mellon University (the other being Joanne).
A comment about Lamar written by the Rev. Mr. Samuel T. Ross-Lee, Pastor, Immanuell Missionary Baptist Church: "Mr. Alford, in addition to going on to other memorable performances on Broadway, returned to his alma mater, Morehouse College to complete his degree and was hired by the college as the first, and as of yet, only Dramitist-in-Residence. In this role, Alford created the King Players of the Martin Luther King, Jr. International Chapel. He wrote/scored and directed plays that received national attention and were reviewed positively in the NYTimes. Alford's greatest contribution as a performer was his ability to teach. He had a great influence on students who participated in his plays in all capacities, students like me, who had no desire to perform professionally, but who enjoyed the experience at college, and got much more than we'd bargained for as we were pushed, motivated, harrassed, yelled at, and loved by Lamar's brutal honesty and radically inclusive compassion."
Nina Faso - Nina's work was essential to the success of the show. She was the original stage manager for Godspell who directed many of the regional productions of the show. Nina Faso also co-adapted Working for stage with Stephen Schwartz. She is living in California and is involved with real estate. Nina Faso
Jay Hamburger - Jay wrote the lyrics for "By My Side." He's working in Vancouver: Theatreintheraw.ca

GODSPELL ORIGINAL CAST STORIES AND PHOTOS
Read about the Godspell story and all the original cast in Defying Gravity: The Creative Career of Stephen Schwartz, from Godspell to Wicked. Includes many chapters on Godspell. Visit the book site for more buying options. www.defyinggravitythebook.com/
Godspell Film cast members:
Victor Garber has an active film, TV, and stage career. Enjoy Victor Garber products at Amazon.com
e.g. Titanic and many other movies and CDs. Victor talks about Godspell in an interview in 2007: Playbill
Katie Hanley lives in Illinois and is an artist.
Lynne Thigpen
Read all about the career and Godspell involvement of Lynne Thigpen on this tribute page: Godspell tributes page with Lynne's story
Jerry Sroka continued in fim and television, specializing in voice talent. Jerry Sroka IMDB
Merrell Jackson (1952–1991) appeared in the Godspell movie and later joined one of the stage companies.
See notes for Robin Lamont, Joanne Joanas, David Haskell, Jeffrey Mylett, and Gilmer McCormick above.
[Comments? Write to carol@musicalschwartz.com]
How did they get into the show?
Everyone involved with the show had been students at Carnegie Mellon University's Drama School except Joanne and Lamar (and Stephen Reinhardt, the band, and the producers). Stephen Schwartz entered Carnegie in 1964 and graduated in 1968 before the show was developed at Carnegie, but was called in to write the score in 1971. John-Michael Tebelak and Nina Faso (stage manager) were directing majors starting in 1966.
I understand that Gilmer, Peggy, Stephen, Jeffrey, and Herbie had also been students at Carnegie and were invited to join the cast at Cafe Lamama. They continued with the show when it opened at Cherry Lane. Sonia, David, and Robin were juniors and had to get permission from the Dean of Fine Arts to leave for New York. -- Carol de Giere
Question posted on StephenSchwartz.com: The Cherry Lane cast was not made up of professionals. Did you ever feel like some of them wouldn't be able to carry off the music?
Answer: It did not worry me at all that the cast was "non-professional" as I wasn't particularly professional myself at that point. Plus, having seen the LaMama show, I knew how good they were.
Question posted on the StephenSchwartz.com forum: One of the most distinct things about the original cast recording of Godspell is the voice of lamar Alford. I'm curious--what was his background? Did he go on to be in any other shows afterwards? His voice is rather different from the other members of the cast and is certainly unique... and very different from Merrell Jackson's performance in the film. I'm curious as to your thoughts.
Answer: Lamar was chosen because so few of the original cast were strong singers. We imported two people into the La Mama cast (the other was Joanne Jonas) to help with the singing. I'm afraid I don't know too much of what Lamar did afterwards; he was teaching in NC or SC for a while, and he died about ten years ago. Thank you for taking the time to write. All the best, Stephen Schwartz
Godspell cast members as characters
From the director's script - This was written based on how the orginal cast members played their roles
JESUS -- Must be the most charismatic individual in the cast. High energy, charming, funny, gentle but with strength. He is the sort of person others instinctively follow.
JOHN THE BAPTIST/JUDAS -- He has attributes of both Biblical figures: he is both Jesus? lieutenant and most ardent disciple and the doubter who begins to question and rebel. Like Jesus, he is also charismatic, but in more of an overt revolutionary way. Usually played by someone handsome and masculine, with an undertone of sexuality. He is the most "serious" and intellectual of the group, though as with all the actors, he must still possess a good sense of physical comedy.
JEFFREY -- Very high energy. Impish and playful. In the original, he played several musical instruments, including concertina and recorder.
LAMAR -- Not the brightest in the bunch, he is a little slow on the uptake. But there is a great sweetness and innocence about him. Because he sings "All Good Gifts", he must be a very good singer.
HERB -- The comedian, the class clown. The guy who can do a hundred voices and imitations. Can be a little older or more heavy-set. This is also the role that sings the least, so it is wise to cast it for a comedian rather than a vocalist.
ROBIN -- A bit of a tomboy, but basically open and sweet. She is the first of the group to commit to following Jesus in the song "Day by Day".
JOANNE -- The confident one, the show-off. The first one to volunteer, sometimes she jumps in before she really understands what's going on.
PEGGY -- The shy one. Sometimes a little slow to get things, but when she does, she commits all the way. Has an "earth mother" kind of warmth to her.
SONIA -- Sassy and slightly cynical, the most urban of the group. Also the "sexy" one, but her sexiness contains a large element of put-on, in the manner of Mae West or Madonna (who in fact once played this role.)
GILMER -- The female equivalent of the class clown. Goofy and a cut-up. This is the female role that sings least, and therefore should be cast with a strong comedienne.
Godspell Movie
Godspell - Columbia Tristar Buy Godspell DVD [new browser window]
Godspell - Video

Columbia Tristar, 1973. Godspell [new browser window]
Godspell Movie - Notes
Film locations: (In approximate order of appearance)
Bethesda Fountain in Central Park, Junkyard on Ward's Island, various modern building scenes and parks, Washington Square Park (The Good Samaritan scene), Lincoln Center (Lazarus), Bandshell at Lincoln Center...
"All For the Best" - Pentouse Garden, Accutron sign, Pan-Am rooftop, top of the World Trade Center
Fordham University Plaza (Manhattan campus), Old vaudeville-movie house, Tugboat by Statue of Liberty, Tugboat pier, junkyard at Ward's Island, under Triboro bridge, city streets.
Godspell Sheet Music with Lyrics
Instant Downloads: "Day by Day" Download "Day by Day" now or "Beautiful City" "Beautiful City" or lead sheet for "Learn Your Lessons Well"
Best source for printed Godspell sheet music: Sheet Music Plus [new browser window] (opens new browser window)

The Stephen Schartz Songbook, includes Godspell songs as Stephen plays them as well as others. 292 pages of music.
Godspell songs included: "Beautiful City," originally from the film, but now often included in this rewritten form in productions of the show, also: "All Good Gifts," "Day by Day"

Complete Score: Godspell : Vocal Score [new browser window]
Vocal Selections at Amazon.com - discount for new and used: Godspell: Vocal Selections [new browser window]
GODSPELL CHORAL MUSIC: Visit our Choral Music from Stephen Schwartz Musicals page for more options
Godspell History & Song Stories
Godspell Songs - Stories from Stephen Schwartz and Peggy Gordon Read stories behind "All Good Gifts," "Learn Your Lessons Well," "All For the Best," "We Beseech Thee," "Turn Back O Man," "By My Side," "Alas for You," and "Beautiful City"
TORONTO Godspell 1972: GODSPELL in Toronto 1972 "Prepared the Way" For Many Stars
Godspell history trip in NYC - Photo of Cherry Lane and Gilmer McCormick
Special "Beautiful City" page created after September 11th
"All Good Gifts" page with lyrics
Original sources from psalms, hymns, etc. for the lyrics of Godspell
lyric sources