Godspell on Broadway - The First Revival
Godspell closed June 24, 2012 after a nine-month run at the Circle on the Square. The show's new musical moments and orchestrations have been captured on an album!
Godspell on Broadway Cast album

Buy the cast album CD Godspell New Broadway Cast Album CD
Includes all the Godspell songs Plus two BONUS tracks:
"Beautiful City" sung by John Ondrasik of Five For Fighting.
The amazing riffed version of "Learn Your Lessons Well" (After Hours) sung by Telly Leung, Lindsay Mendez, and Wallace Smith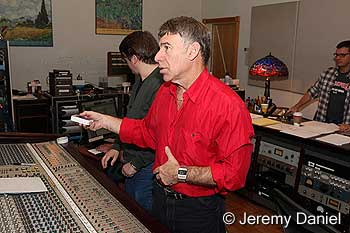 You'll also find a newly musicalized section within "Learn Your Lessons Well."
Read all about the new Godspell Broadway Cast Album and its orchestrations by Michael Holland!
Photo: Stephen Schwartz communicates with the cast from the control room of the recording studio. This was in November of 2011, during one of the recording sessions for the new cast album for Godspell on Broadway.
ABOUT THIS PAGE: In addition to the information provided here, the page contains affiliate links. If you make a qualifying purchase after clicking on a Musicnotes, Amazon, or Sheet Music Plus link, we receive a commission, which helps support this independent website.
SHEET MUSIC: "Beautiful City" - Get "Beautiful City"- instant download sheet music by Stephen Schwartz. VERSION: Broadway Revival as sung by Hunter Parrish and the company of Godspell.
STAY INFORMED about Godspell and composer Stephen Schwartz
Subscribe to The Schwartz Scene - free quarterly email newsletter with updates by Mr. Schwartz
Godspell History and Behind-the-Scenes book includes chapter on the Broadway Revival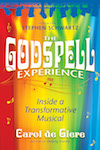 Read the complete history of Godspell and enjoy the behind-the-scenes stories in The Godspell Experience: 384 pages, 90 photos, Foreword by Stephen Schwartz. Visit the book website at www.thegodspellexperience.com
The final chapter is on the Broadway revival.
About Godspell
The score of Godspell, by Academy and Grammy Award winner and six time Tony Award nominee Stephen Schwartz (Wicked, Pippin), features recognizable songs that have become staples of both the American musical theatre and popular culture alike. With a book by John-Michael Tebelak, Godspell uniquely and joyfully exclaims a message of tolerance, kindness and hope that resonates just as deeply as the music.
Video clips of Godspell, the Broadway Show
Cast:
Swings ready to back up these performers Hannah Elless, Eric Michael Krop, Corey Mach, Julia Mattison. (Former Godspell understudy, Joaquina Kalukango has been cast in a new off-Broadway show.)
About the show
The Godspell revival on Broadway embraces the 21st century in this exciting new production of one of the longest-running and most beloved Off-Broadway musicals of all time. Using improvisation and contemporary themes to illustrate the parables, Godspell brings these lessons to life through the grand tradition of musical theatre.
A brief history of Godspell
Based on The Gospel according to St. Matthew, Godspell was originally a senior thesis directing project for Carnegie Mellon University Master of Fine Arts candidate John-Michael Tebelak. Using a profound experience at an Easter
Sunday church service for inspiration, Tebelak wrote the first version of Godspell in 1970. This first version included a score comprised mostly of lyrics from the Episcopal Hymnal set to music by the student cast. After a chance meeting with Ellen Stewart of Café La MaMa in New York, Godspell transferred to La MaMa Experimental Theatre Club for a two-week, ten performance run where it was brought to the attention of producers Edgar Landsbury (brother of Angela Landsbury) and Joseph Beruh. Excited by what they saw, the duo approached Tebelak with the opportunity of an off-Broadway run if he would agree to a new score. Tebelak agreed and the producers hired Stephen Schwartz, another alumnus of the Carnegie Mellon theatre department, to write new songs for the show. Schwartz's score featured a variety of styles including pop, folk rock, gospel and vaudeville. "By My Side" was the only song kept from the original production. The new Schwartz / Tebelak musical Godspell opened off-Broadway at the Cherry Lane Theatre on May 13, 1971 and its success was immediately evident. The critics raved unanimously and in August of 1971, Godspell moved to the larger Promenade Theatre where it ran for 2,124 performances making it one of the longest running Off-Broadway musicals in history.

Godspell on Broadway
After five years of sold-out audiences Off-Broadway, Godspell made its Broadway debut on June 22, 1976 at the Broadhurst Theatre. Critics found the show to be just as fresh and exciting as it was when it first opened at the Cherry Lane. The show would move to the Plymouth and the Ambassador before closing on September 4, 1977 after 527 performances. In all, the musical achieved more than 2,600 performances both on Broadway and off.
Godspell around the world
Godspell has entertained audiences the world over for decades. Major sit-down productions of the smash hit musical were produced in most all major cities including Boston, Washington, Los Angeles, San Francisco, Philadelphia, Chicago and Toronto. During much of 1972, these seven companies performed simultaneously. Productions also opened abroad in Paris, Amsterdam, Hamburg and Melbourne. A London production, which opened in 1971, ran for nearly three years. In the last four years of its New York run, there were 25 companies performing Godspell around the world with eight resident companies and three touring companies. Godspell has been credited for establishing Toronto as a major theatre center that could support its own productions with its own actors. The legendary 1972-73 Toronto production cast local actors for the record-breaking production providing the first paying jobs for actors Victor Garber, Eugene Levy, Andrea Martin, Gilda Radner, Dave Thomas and Martin Short. Paul Schaffer served as musical director.
A film version of Godspell was released in 1973 set in modern New York City. The cast featured Toronto alum Victor Garber as Jesus, David Haskell as John the Baptist/Judas and Lynne Thigpen in her first film role. John-Michael Tebelak co-wrote the screenplay and served as the creative consultant. The song "Beautiful City" was written for the film and has subsequently been performed in major stage revivals of the show. Godspell permeated pop culture when its song "Day By Day" reached #13 on the Billboard Top 100 list.
---
Original lyrics and music are on the Godspell Movie Soundtrack but it's been changed since then. Buy Godspell: Original Motion Picture Soundtrack [new browser window]
Godspell Recordings that include all the songs
2011 - New Broadway Cast CD Mp3 files: Godspell New Broadway Cast
OR the cast album here Godspell New Broadway Cast Album CD

Godspell 2000
This Off Broadway Godspell Cast CD includes more of the script passages than other albums (e.g. dialogue in the middle of songs). The version of Beautiful City on this album includes the more current lyrics that Stephen Schwartz favors. Buy or hear audio clips from Godspell 2000 Cast Album .
---

2001 Godspell Tour
Fans will not want to miss the up-tempo version on this recording. The 2000/2001 national Godspell tour features some of orchestrations and arrangements you won't hear elsewhere, based on modern bands like Dave Matthews, Tori Amos, and others. For contemporary rhythms and fun, try this CD. Buy or hear audio clips from Godspell - 2001 National Touring Cast [new browser window]. Read arranger Alex Lacamoire's comments Godspell 2001 orchestrations
Godspell 40th Anniversary CD

Godspell: 40th Anniversary 2-CD Set
/ Godspell 40th mp3 [+Digital Booklet]
Enjoy the songs of Godspell at home with this double CD set. The newly remastered tracks are truly an enhancement over the original. You'll get both the ORIGINAL cast album AND the MOVIE soundtrack. Available as digital files or CD with new liner notes by Stephen Schwartz and wonderful photos.
Reviews and more info about the new Godspell
RAVES: USA Today New 'Godspell' is cause to rejoice
Wall Street Journal review of Godspell - That Wild and Crazy Messiah
More about Godspell
For more about the musical Godspell - visit our main Godspell page
Creative Team Bios for Godpell Broadway
Stephen Schwartz (Music and Lyrics)
Stephen Schwartz has contributed music and/or lyrics to Wicked, Godspell, Pippin, The Magic Show, The Baker's Wife, Working (which he also adapted and directed), Personals, Rags and Children of Eden. For films, he collaborated with Alan Menken on the scores for the Disney animated features Pocahontas and The Hunchback of Notre Dame and wrote the songs for the DreamWorks animated feature The Prince of Egypt. He has released two CDs of new songs entitled Reluctant Pilgrim and Uncharted Territory available at www.stephenschwartz.com. Mr. Schwartz is also the artistic director of the ASCAP Musical Theatre Workshops and a member of the Dramatists Guild Council. Awards include three Academy Awards, four Grammy Awards and four Drama Desk Awards.
John-Michael Tebelak (Book)
John-Michael Tebelak was 22 years old when Godspell hit New York. It was his first brush with the New York theatre, but by no means his first venture into theatrics. His theatrical career started when he "walked into a theatre at the age of nine and stayed there." Mr. Tebelak originally conceived of Godspell as his Masters Thesis project at Carnegie-Mellon University in 1970. All of the original cast members contributed to the playful script that evolved under John-Michael's direction. Subsequently, he directed productions of Godspell at La MaMa Theatre in February of 1971, the Cherry Lane Theatre (opening May 17, 1971), the Promenade Theatre, and on Broadway. Tebelak co-authored the screenplay for Godspell (1973) for Columbia Pictures with David Greene. Mr. Tebelak was dramaturge for the Cathedral Church of St. John the Divine in New York City, and wrote and staged liturgical drama there. He died of a heart attack at the age of 36 in April 1985.
Daniel Goldstein (Director)
Daniel Goldstein recently directed the Off-Broadway commercial production of the hit Fringe Festival musical Walmartopia. Other recent credits include Beau Willimon's Lower Ninth at SPF, Kenny Finkle's Indoor/Outdoor at the DR2, Falsettos and Les Liaisons Dangerouses at the Huntington Theater Company, But I'm A Cheerleader at the New York Musical Theater Festival and Bathsheba Doran's Living Room In Africa at Gloucester Stage. He has served as the Associate Director for All Shook Up! and Fully Committed and the Resident Director for the First National Tour of Mamma Mia! Daniel has developed the work of playwrights Peter Morris, Roberto Aguirre-Sacassa, Rob Handel, John Shea, Bathsheba Doran, Janet Neipris and Eliza Jane Scheider at the O'Neill Playwright's Conference, PlayPenn, and elsewhere. As a writer, he was the recipient of an inaugural Calderwood Commission from the Huntington Theater Company, for which he is writing an original musical. He is also developing a musical with Disney Theatrical and was the author, with Michael Friedman, of the musical Song of Songs. Celebration, the one person show he created with Ethan Sandler and Josie Dickson, was seen Off-Broadway as well as New Haven, San Francisco and the HBO Aspen Comedy Arts Festival. He is a graduate of Northwestern University with a degree in Performance Studies.
Ken Davenport is currently the only independent producer to have three shows running simultaneously Off-Broadway: Altar Boyz, The Awesome 80s Prom and My First Time. See full bio at http://kendavenport.typepad.com/about.html
Choreographed by Christopher Gattelli
Scenic Design by David Korins; Costume Design by Miranda Hoffman ; Lighting Design by Ben Stanton
Orchestration by Michael Holland